PROPPR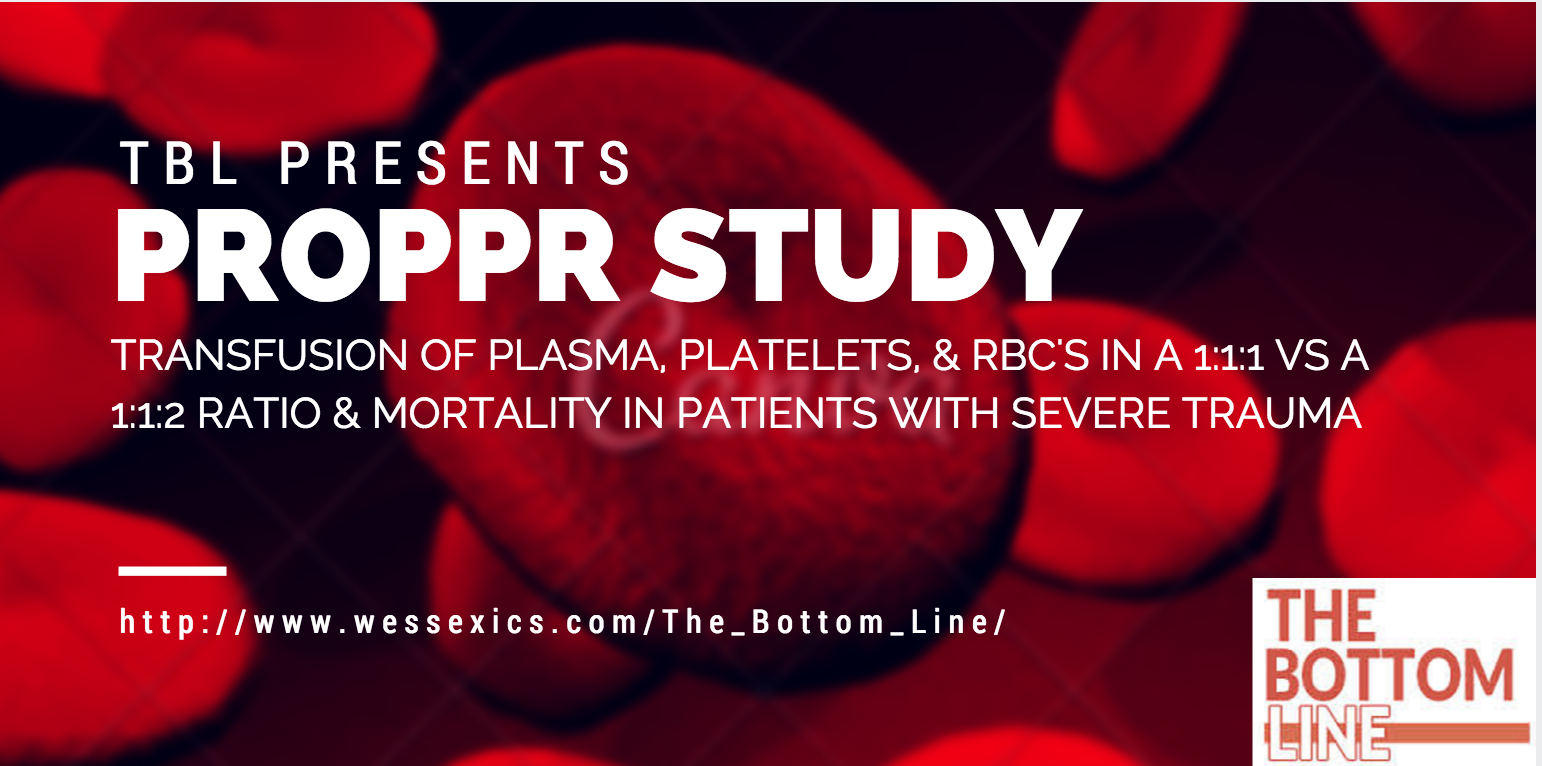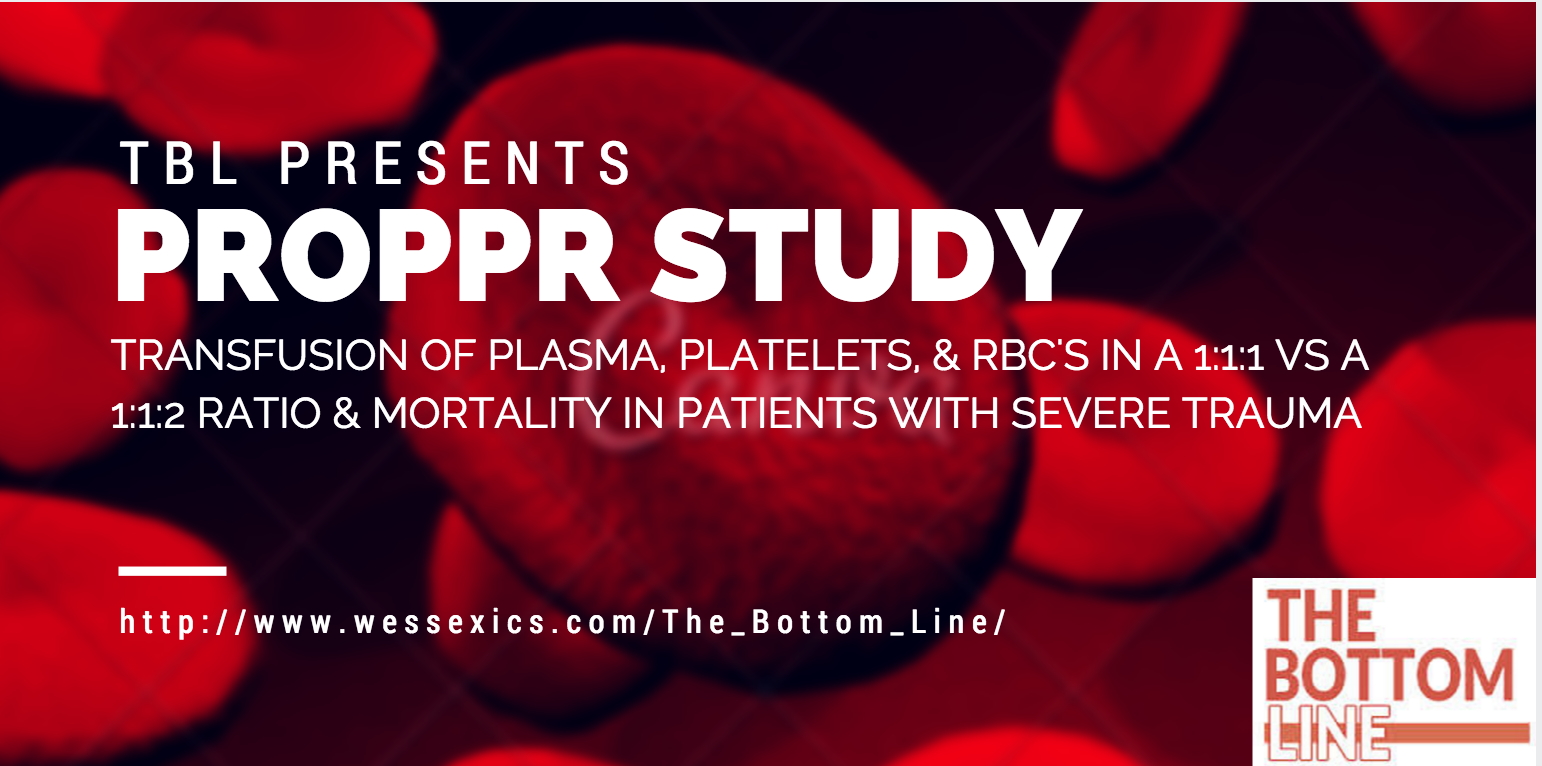 PROPPR: Transfusion of Plasma, Platelets, and Red Blood Cells in a 1:1:1 vs a 1:1:2 Ratio and Mortality in Patients With Severe Trauma. The PROPPR Randomized Clinical Trial
PROPPR Study Group*, JAMA. 2015;313(5):471-482
Clinical Question
In patients with severe trauma and predicted to require massive transfusion, does the use of a transfusion protocol using a 1:1:1 ratio of plasma to platelets to red blood cells (RBCs) compared to 1:1:2 improve mortality?
Design
Randomised-controlled trial
Treating clinicians non-blinded
Allocation concealment maintained through use of sealed containers of blood products
Blinding of assessors of primary outcome
Sample size calculation

Sample size increased from 580 to 680 patients according to "trial's adaptive design" due to lower actual mortality than predicted
With sample size of 680 patients

95% power to detect 10% absolute difference in mortality at 24 hours
92% power to detect 12% absolute difference in mortality at 30 days
Setting
12 North American Level 1 trauma center sites
3rd August 2012 – 2nd December 2013
Population
Inclusion:

Highest trauma level activation
Estimated age 15 years or older or greater than/equal to weight of 50 kg if age unknown
Received directly from scene of injury
Received at least 1 U of blood product in pre-hospital setting or within 1 hour of arrival to hospital

Predicted to receive a massive transfusion by Assessment of Blood Consumption Score ≥ 2 or by the attending trauma surgeon

'

s judgment

Exclusion:

Received a life saving intervention from another hospital
Non-survivable injuries
Prisoners directly admitted from jail
Required emergency thoracotomy prior to randomisation
Obvious pregnancy
Severely burned
Had at least 5 minutes of CPR with chest compressions before admission
Known "Do Not Resuscitate" orders prior to randomization
Enrolled in a concurrent ongoing interventional, randomized clinical trial
Patients who wear "opt-out" bracelet
>3 U RBCs given before randomization
PROPPR products not given within 2 hour period
Patient improved, did not require further transfusion
11185 screened, 680 patients randomised (338 to intervention, 342 to control)

Groups eventually matched including Injury Severity Scores and Revised Trauma Scores (median ISS score 26)
Intervention
Blood product ratios of 1:1:1 (plasma:plts:RBCs)

Packs contained 6 U plasma, 1 dose plts (pool of 6 U) and 6 U RBCs
Control
Blood product ratios of 1:1:2 (plasma:plts:RBCs)

Alternating packs containing 3 U plasma, 0 dose plts and 6 U RBCs with 3 U plasma, 1 dose plts and 6 U RBCs
In both intervention and control group
Blood products administered in a pre-specified order to maintain assigned ratios
Transfusion stopped when clinically indicated
Outcome
Primary outcome:

24 hour mortality – no significant difference

30 day mortality – no significant difference

Secondary outcome:

No significant difference in:

Time to haemostasis
Any of 23 pre-defined complications
Hospital-, ventilator, and ICU-free days
Incidence of surgical procedures
Functional status at discharge

Blood product volumes transfused

Until haemostasis achieved – no significant difference
After haemostasis till 24 hours post-admission – significantly higher in intervention group

Post-Hoc Analysis

Death by Exsanguination in 1st 24 hours– significantly decreased in intervention group
Achieved haemostasis – significantly greater in intervention group
Authors' Conclusions
Among patients with severe trauma and major bleeding, early administration of plasma, platelets, and red blood cells in a 1:1:1 ratio compared with a 1:1:2 ratio did not result in significant differences in mortality at 24 hours or at 30 days.
Strengths
Randomised, multi-centre, pragmatic
Targeted most severely injured trauma patients predicted to be at highest risk of haemorrhage
Pre-specified transfusion order to maintain target ratios
Sample size increased to maintain statistical power
Minimal loss during follow up
Allocation concealment contained
Weaknesses
Unblinded
30 day maximum follow up time
Powered to detect an absolute difference of 10% in mortality – unable to detect smaller effect

2968 patients would have been required to detect the observed difference of 4.2% (24 hour mortality) with 90% power
The Bottom Line
Among patients with severe trauma and major bleeding there was no significant difference in 24 hour or 30 day mortality in patients who received a blood product transfusion at a ratio of 1:1:1 compared to a ratio of 1:1:2. However the study was significantly underpowered for the observed difference in mortality found.
A ratio of 1:1:1 resulted in reduced mortality from  exsanguination within the 1st 24 hours, with similar complication rates to a lower ratio protocol. Therefore, I will continue to aim for a 1:1:1 ratio in this population.
External Links
Metadata
Summary author: @avkwong
Summary date: 7th Feb 2015
Peer-review editor: @davidslessor