PATCH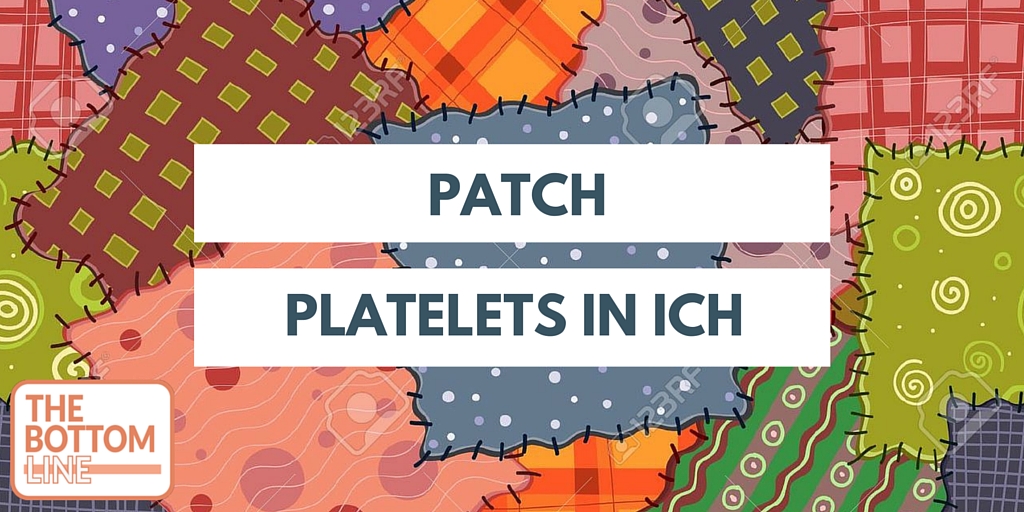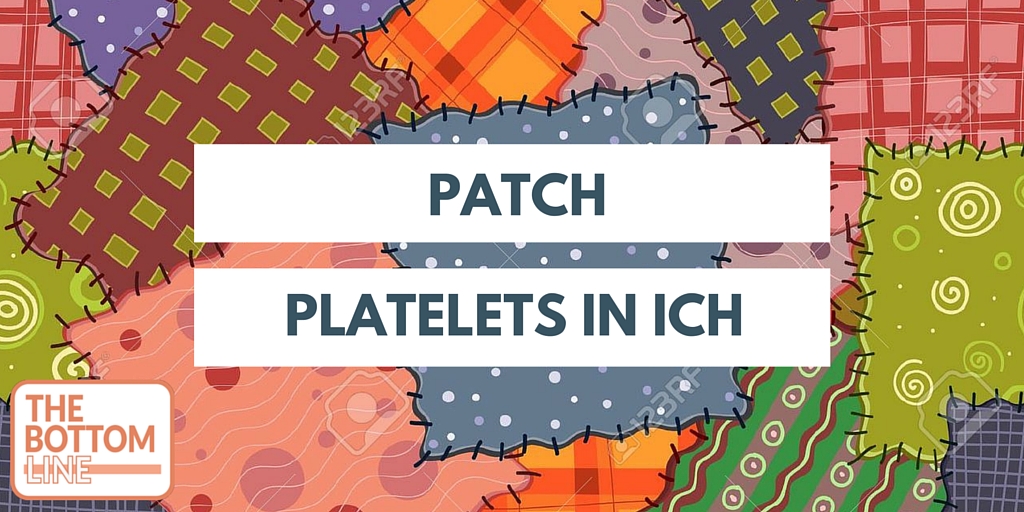 Platelet transfusion versus standard care after acute stroke due to spontaneous cerebral haemorrhage associated with antiplatelet therapy (PATCH): a randomised, open-label, phase 3 trial
Baharoglu. Lancet 2016; 387:2605–2613. doi:10.1016/S0140-6736(16)30392-0
Clinical Question
In patients with acute intracerebral haemorrhage (ICH), associated with antiplatelet therapy, does platelet transfusion compared with standard care reduce death or dependence?
Design
Randomised controlled trial

Web-based randomisation system
Biased coin randomisation

Clinicians and patients non-blinded
Primary outcome assessed by blinded neurologist or research nurse performing either structured telephone interview or face to face consultation
Primary outcome modified from that specified in trial protocol. Modification occurred prior to unmasking the trial database and without knowledge of outcome data.
Intention to treat analysis
91% power to detect a common odds ratio (OR) of 0.43 in an ordinal logistic regression analysis for all pairs of modified Rankin Scores (mRS) categories
Setting
41 Hospitals in Europe (Netherlands, UK, France)
Feb 2009 – Oct 2015
Population
Inclusion criteria:

Adult patients
Non-traumatic supratentorial intracerebral haemorrrhage confirmed with brain imaging
GCS 8-15
Platelet transfusion could be initiated within 6 hours of symptom onset and within 90 minutes of brain imaging
Had been taking antiplatelet therapy for at least 7 days prior to ICH (COX inhibitor: aspirin carbasalate calcium, ADP receptor inhibitor: clopidogrel, adenosine re-uptake inhibitor: dipyridamole)
Baseline modified Rankin score of 0 (no symptoms) or 1 (no significant disability)

Exclusion criteria:

Blood on brain imaging suggestive of epidural or subdural haematoma
Underlying aneurysm or AV malformation
Planned surgical evacuation of ICH within 24 hours of admission
Intraventricular blood more than sedimentation in the posterior horns of the lateral ventricles
Previous adverse reaction to platelet transfusions
Known use of Vitamin K antagonist, unless INR ≤1.3
History of coagulopathy or platelet <100
Death appeared imminent

190 patients randomised
Comparing baseline characteristics of intervention vs. control groups
Antiplatelet therapy pre-ICH

COX inhibitor alone: 73% vs. 84%
COX inhibitor + dipyridamole: 19% vs. 14%

Median GCS score: 14 vs. 15
Age >80: 29% vs. 37%
ICH volume >30ml: 34% v. 21%
Intraventicular extension: 13% vs 22%
Had exclusions to trial entry: 15% vs. 23%

Intraventricular haemorrhage: 12 patients vs. 20 patients
Infratentorial location of haematoma: 2 patients vs. 0 patients
Not taking antiplatelets: 1 patient vs 0 patient
Thrombocytopenia: 0 patient vs. 1 patient
Intervention
Platelet transfusion (leucocyte depleted)

5 units if on COX inhibitor, 10 units if on ADP receptor inhibitor
n=97, of whom 4 did not receive platelet transfusion
Control
Standard care (not defined)

n=93, of whom 2 received platelet transfusion
Outcome
Primary outcome: difference in functional outcome at 3 months as assessed by mRS

Odds of a shift towards death or dependence at 3 months significantly higher in the intervention group than in standard care

Unadjusted OR 1.84, 95% C.I. 1.1-3.08, p=0.02
Adjusted OR 2.05, 95% C.I. 1.18-3.56, p=0.01

Secondary outcomes: Comparing intervention vs. control groups

Alive at 3 months: 68% vs. 77%, OR 0.62 (0.33-1.19), p=0.15
mRS score 4-6 at 3 months: 72% vs 56%, OR 2.04 (1.12-3.74), p=0.02, fragility index 2 patients, with number of patients lost to follow up of 0 patients
mRS score 3-6 at 3 months: 89% vs 82%, OR 1.75 (0.77-3.97), p=0.18
Median ICH growth at 24 hr (ml) 2.01 vs. 1.16 , p=0.81, however baseline imaging values missing in 7 patients, and repeat imaging values missing in 37 patients
No significant difference in any serious adverse event

Overall: 42% vs. 29%, OR 1.79 (95% C.I. 0.98-3.27)
Thromboembolism: 4% vs. 1% OR 3.96 (95% C.I. 0.43-36.08)
Complication of ICH: 25% vs. 14% (OR 2.02 (95% C.I. 0.96-4.27)

Pre-specified sub-group

Haematoma volume

<7ml: OR 2.46 (95% C.I 1.02-5.94)
7-30ml: OR 1.4 (95% C.I 0.58-3.39)
>30ml: 0.87 (95% C.I. 0.27-2.76)
(Odds ratio of >1 favours control group, where as OR <1 favours transfusion)

Post-hoc analysis

Primary outcome remained unchanged when the 36 patients who met at least 1 exclusion criteria were removed from analysis: adjusted OR 2.22 (95% C.I. 1.2-4.09), p=0.01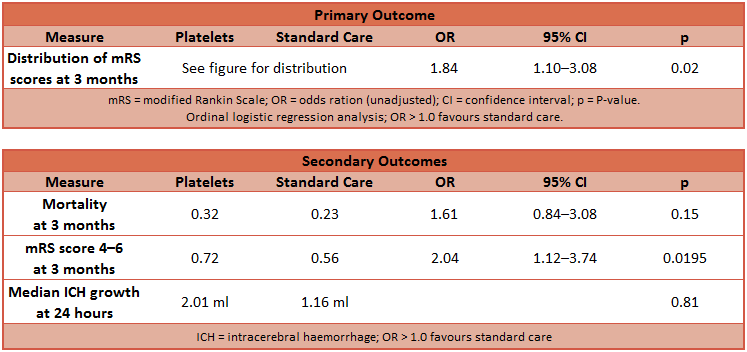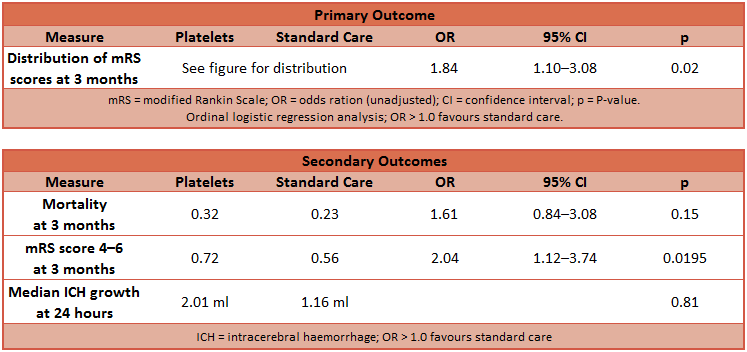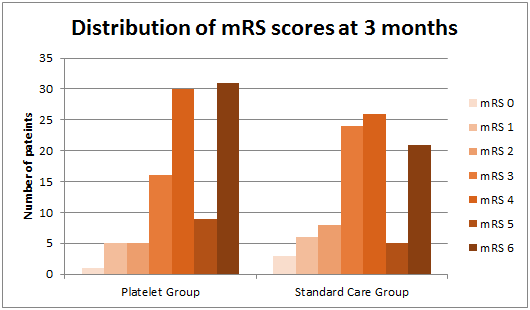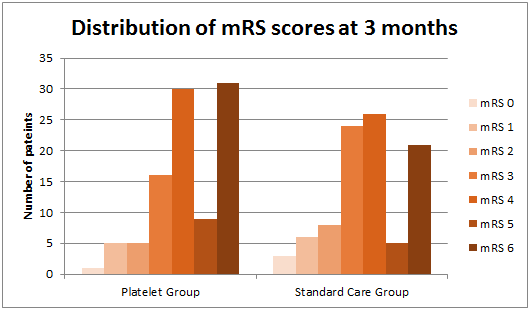 Authors' Conclusions
Platelet transfusions cannot be recommended for the treatment of acute ICH in people taking antiplatelets therapy
Strengths
Randomised controlled trial
No patients lost to follow up at 3 months
blinding of assessors of primary outcome
Randomised control trial with allocation concealment maintained through web based randomisation
Weaknesses
Primary outcome changed during trial from dicotomised mRS to current one. However, this was changed prior to knowledge of the outcome data
Differences in the baseline characteristics between the intervention and the control group
Large numbers of patients randomised who had exclusion criteria
Non-blinding of clinicians and patients
Small numbers of patients included
The Bottom Line
This small randomised controlled trial demonstrated that patients with ICH who are on antiplatelet agents have worse neurological outcomes at 3 months if they are treated with a platelet transfusion compared with standard care alone. The trial has a number of weaknesses but this is the best evidence we have and I do not think we should be using platelet transfusions for these patients outside of a clinical trial.
External Links
Metadata
Summary author: @davidslessor
Summary date: 21st June 2016
Peer-review editor: @duncanchambler