Classic Trial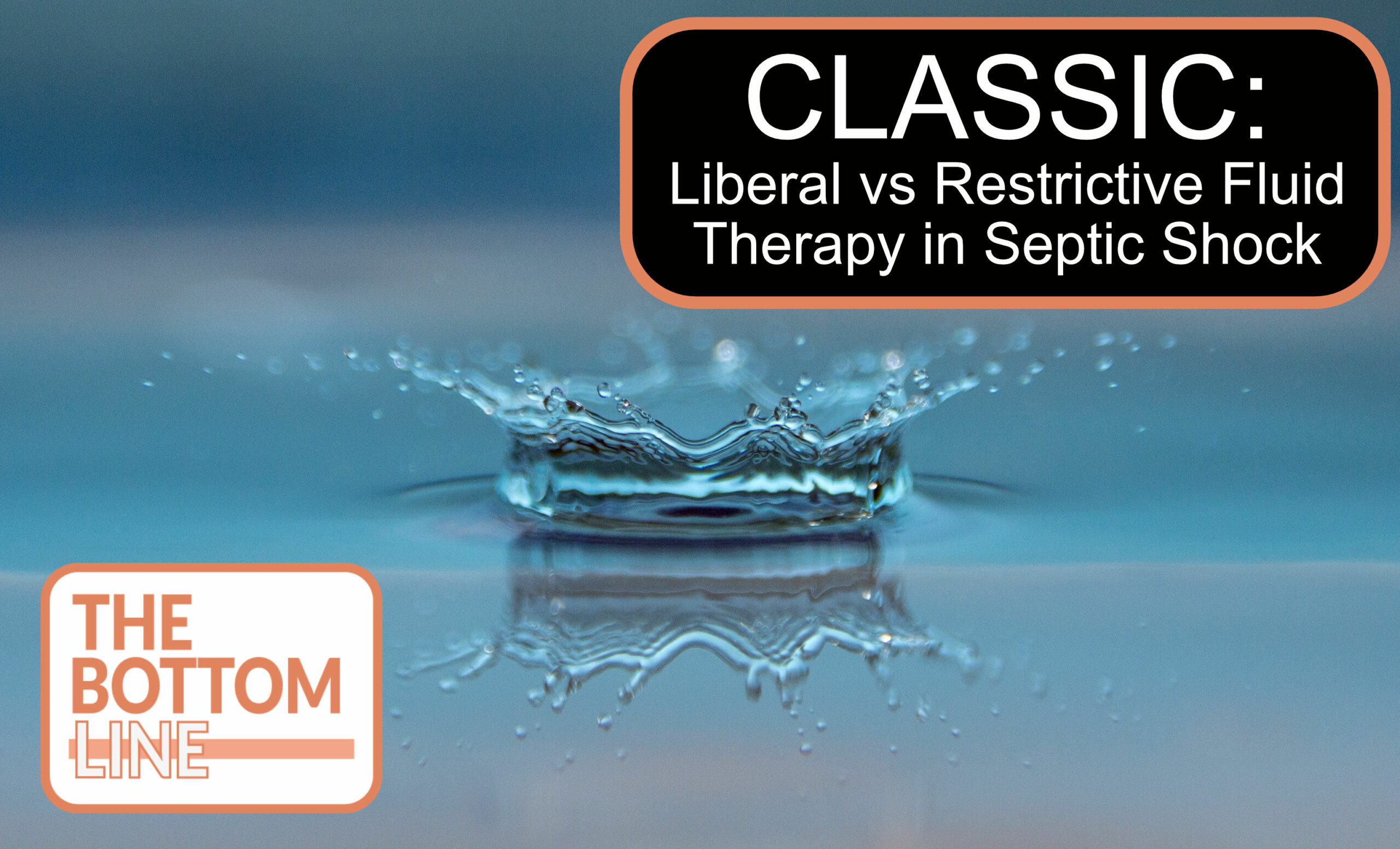 Restriction of Intravenous Fluid in ICU Patients with Septic Shock
Meyhoff T. NEJM 2022; DOI: 10.1056/NEJMoa2202707
Clinical Question
In adult patients in ICU with septic shock, does a restrictive approach to fluid therapy compared to a standard care result in fewer deaths at day 90?
Background
Fluid therapy in the critically unwell has been widely studied across many patient populations
Higher volumes of fluid in patients with sepsis and septic shock has been associated with harm, although a meta-analysis showed that the quality of evidence was very low
The ANDROMEDA SHOCK trial demonstrated in those with septic shock, that by 2 hours only ~25% of patients were deemed to still be fluid responsive
The CLASSIC pilot study showed that a restrictive fluid strategy was feasible and showed significantly less fluid was used in the first 5 ICU days in the restrictive group

Mortality at day 90 was an exploratory outcome and this was reduced in the restrictive group, although not significantly
Design
Stratified, parallel-group, open-label, international, randomised controlled trial
Randomised 1:1 using a central web based system

Block sizes of 6 or 8
Stratified according to site and presence/absence of metastatic or haematological malignancy

Treatment group assignments not masked for clinicians, patients or investigators

Those on data safety monitoring committee, statisticians assessing the outcomes, and the management committee writing the abstract draft were blinded

Received assigned intervention from randomisation until ICU discharge (for a maximum of 90 days)

If re-admitted within 90 days then treatment assignment continued

Data collected from medical records and registries

Patients or relatives contacted if further information needed

Pre-specified subgroups included need for respiratory support, AKI, Lactate > 4 mmol/L, weight > 76kg, > 30mls/kg of fluids administered in 24 hours prior to randomisation
Power calculation

1554 patients needed to show a 7% absolute reduction in 90 day mortality from a baseline of 45%
Type I and II error rates of 5% and 20% respectively
Based on pilot study, prior RCTs and systematic reviews

Registered with clinicaltrials.gov
Setting
31 ICUs in Europe
November 2018 to November 2021
Population
Inclusion:

Age ≥ 18
Septic Shock according to Sepsis-3

Suspected or confirmed infection, plasma lactate > 2mmol/L and vasopressor requirement

1L of fluid administered in the prior 24 hours
Within 12 hours of screening

Exclusion:

Septic shock > 12 hours
Life threatening bleeding
Burns > 10% TBSA
Known Pregnancy

2223 screened –> 1554 randomised

770 to restrictive group
784 to standard group

Comparing baseline characteristics of restrictive vs. standard group

Age (yrs): 71 vs 70
Male (%): 59.9 vs 58.2
Median time from ICU admission to randomisation (hrs): 3 vs 3
Median predicted mortality (%): 40 vs 40
Source of admission (%)

ED: 39.3 vs 38.5
Wards: 34.2 vs 38.7

Source of infection (%):

GI: 36.8 vs 38.3
Respiratory: 27.7 vs 26.5
Urinary: 15.8 vs 17.1

Median highest lactate (mmol/L): 3.8 vs 3.9
Median highest dose of noradrenaline (μg/kg/min): 0.25 vs 0.23
Median volume of IV fluids in prior 24 hours (L): 3.2 vs 3.0
Systemic glucocorticoid use (%): 28.6 vs 29.1
Use of respiratory support (NIV, IMV): 52.6 vs 48.6
Intervention
Restrictive Group
Fluids could be given for:

Severe hypoperfusion:

Lactate > 4 mmol/L
MAP < 50 mmHg (with or without vasopressors/inotrope)
Mottling beyond kneecap
Urine Output < 0.1ml/kg (only within first 2 hours post randomisation)
If met any of these criteria then 250-500mls bolus of crystalloid could be given followed by re-evaluation

Overt losses (e.g. D+V) but only to correct for loss and not more
If oral or enteral route contraindicated for water or electrolyte solutions then IV fluids could be given to correct electrolyte derangements and to ensure a 1L/24hrs total intake

Fluids with medications and nutrition count as input
Fluids for medications should be reduced to lowest possible volume
Control
Standard Care

No upper limit for use of fluids
IV fluids should be given based on SSC guidelines in case of circulatory impairment
IV fluids should be given to replace observed or expected losses to correct dehydration or electrolyte derangements
IV fluids should be given as maintenance in places with protocols that recommend this
Management common to both groups
Isotonic crystalloids used

Albumin only allowed following abdominal paracentesis

Concomitant interventions for septic shock detailed in trial protocol (appropriate antibiotics, noradrenaline as a vasopressor, source control and RRT for routine indications)
All other treatment including diuretic use at discretion of treating clinicians
Outcome
Primary outcome:
Death by day 90

Restrictive 42.3% vs Standard 42.1%
Adjusted absolute difference 0.1 (95% CI -4.7 to 4.9), p = 0.96

Secondary outcomes:

No significant difference in:

Number of Serious Adverse Events
Number of days alive without life support
Number of days alive and out of the hospital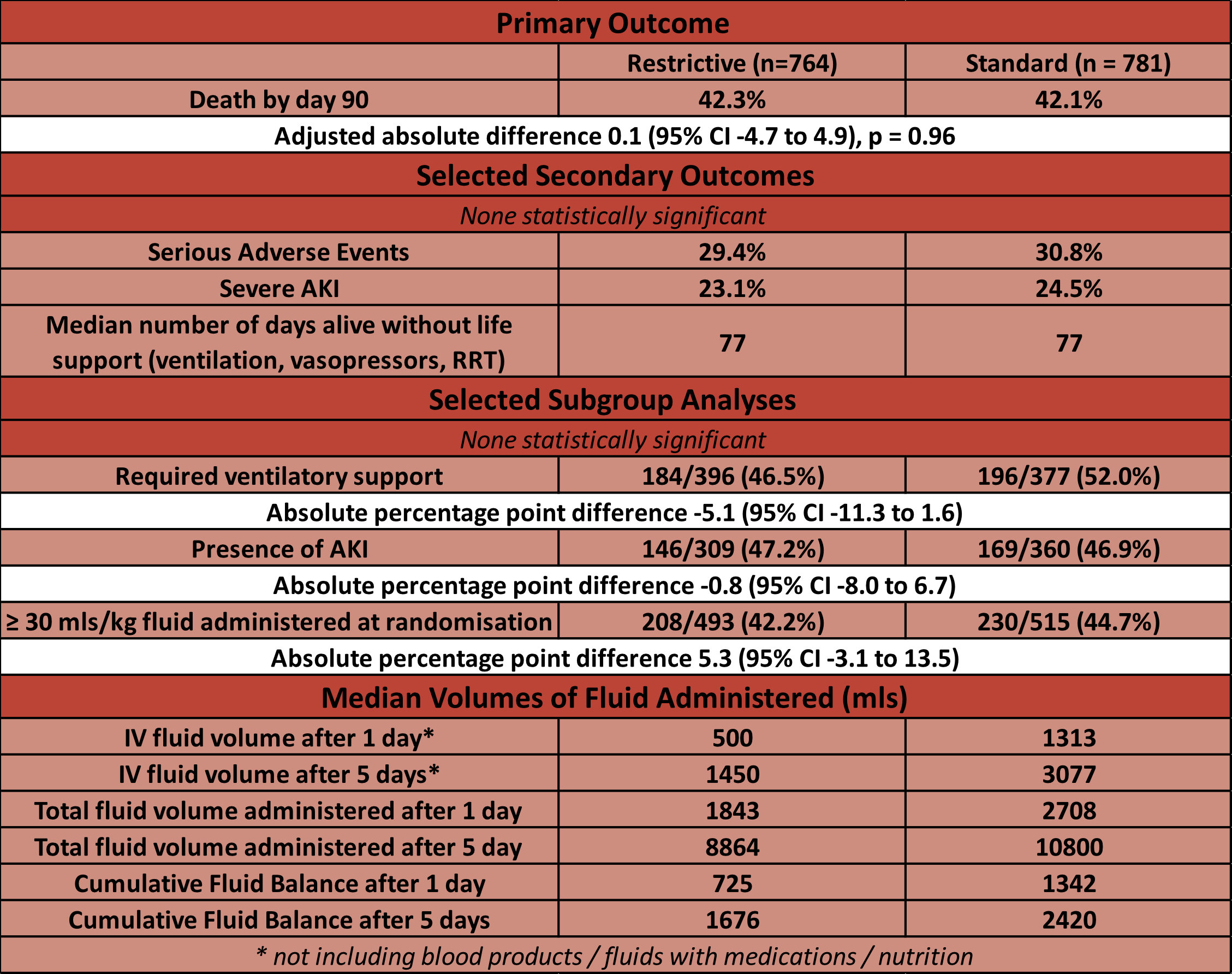 Authors' Conclusions
In adult ICU patients with septic shock, IV fluid restriction did not result in fewer deaths at 90 days compared to standard IV fluid therapy
Strengths
Randomised
Multi-centre trial involving 31 ICUs across 8 European countries increases external validity
Pre-published statistical analysis plan
Intention to treat analysis
Minimal loss to follow up (0.6%)
Balanced baseline characteristics
Unwell patient cohort
Achieved a separation in fluids administered via trial protocol
Weaknesses
Unblinded
The most common infection source was GI – this may have necessitated large volumes of replacement fluid if diarrhoea or vomiting were prominent features
Powered for a 7% reduction in mortality
Large volumes of fluid given outside of the trial protocol

Nearly 3L of fluid given to each group in 24 hours prior to randomisation
The total difference in fluids administered by day 5 was only ~2L (8.8L vs 10.8L), with a difference of only ~800mls in the cumulative day 5 fluid balance
These similarities between the groups may result if the standard care delivered in ICUs is already a relatively restrictive (e.g. no maintenance) fluid strategy

 This potentially biases the results towards the null

Large numbers of protocol violations (% patients with at least one violation)

21.5% in restrictive group vs 13.0% in standard group

In restrictive group 64% of violations were for fluid bolus use without criteria being met

Violations resulted in median of 97ml fluid administered/day

In standard group 100% of violations were for no IV fluid being given on any single day in ICU

This was 13% of all patients in the standard group

However, there was no difference in outcome when violations removed in per-protocol analysis
The Bottom Line
This study did not confirm my pre-existing biases, in that a restrictive fluid strategy was not shown to be superior, with respect to 90 day mortality, to standard fluid management currently being practiced in European ICUs
 However, the 5 day cumulative fluid balance in the standard group was not much greater than the restrictive group. Therefore care is still required to ensure that every patient in ICU has a vigilant and considered fluid management strategy. This includes the de-escalation or evacuation phase of fluid therapy.
External Links
Metadata
Summary author: George Walker @hgmwalker
Summary date: 17th June 2022
Peer-review editor: @davidslessor
Picture by: Pixabay/Pexels