POCUS: Lichtenstein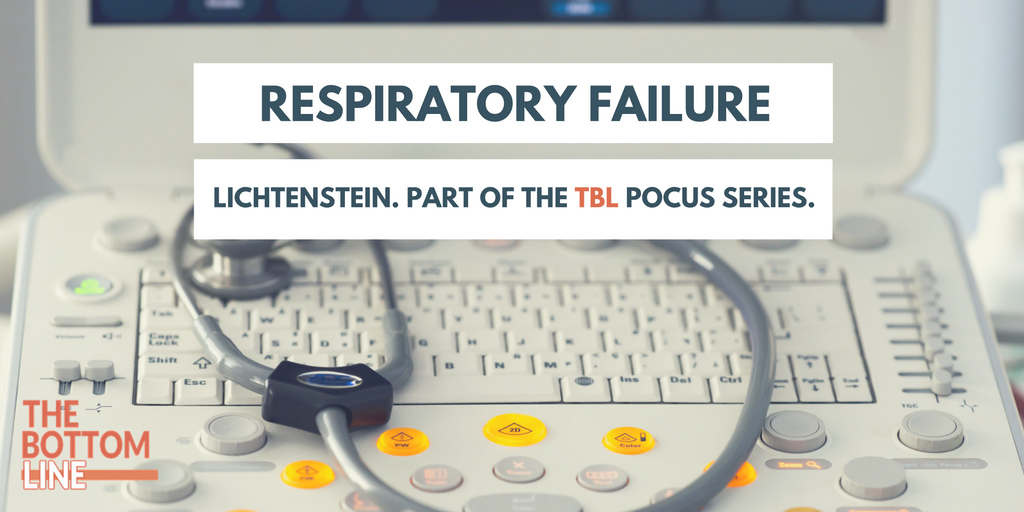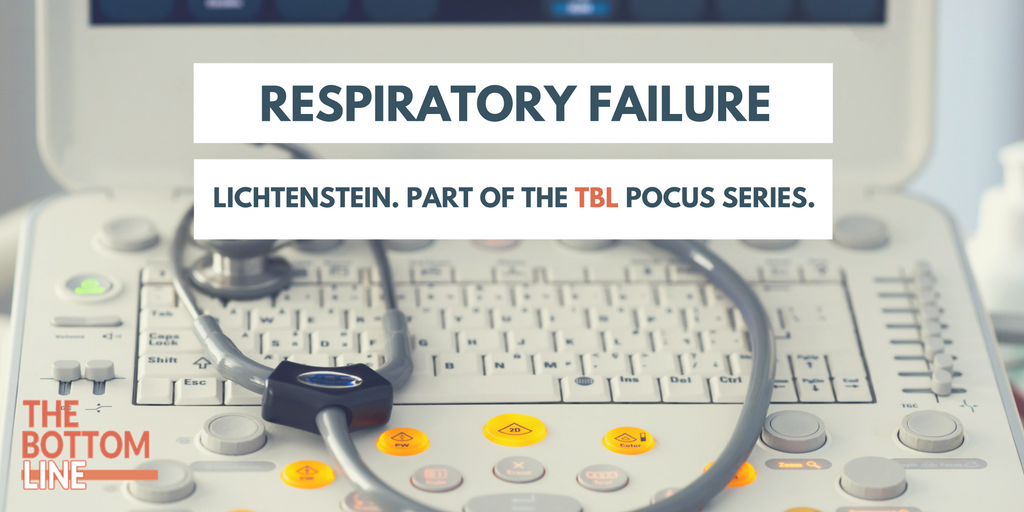 Relevance of Lung Ultrasound in the Diagnosis of Acute Respiratory Failure
The BLUE Protocol
Lichtenstein. Chest 2008;134;117-125
Clinical Question
In patients with acute respiratory failure can bedside ultrasound, compared to standard diagnostic methods, provide an accurate diagnosis?
Design
Observational diagnostic cohort study (Derivation only)
Blinding of treating staff to test of interest
Ultrasound operator not blinded to patients clinical presentation
Consecutive patients
Setting
Two intensive care units in France
Performed over 4 years – dates not stated
Population
Inclusion criteria: Adult patients with acute respiratory failure

Defined by 'classical clinical and biological criteria for requiring admission to the ICU'

Exclusion critera: Patients excluded post-hoc if:

Never received a definite diagnosis (n=16)
Several official diagnosis (n=16)
Rare diagnosis (n=9)

301 patients had ultrasound performed of whom 260 included in analysis
Test of Interest
Lung ultrasound

performed within 20 minutes of admission to ICU
lasted <3 minutes
5-MHz microconvex probe
Semi-recumbent position, or were supine if intubated (n = 35)
Anterior approach assessing

Artefact analysis

A lines: horizontal repetitive artifacts originating from the pleural line
B lines: vertical, comet-tail artifacts originating from the pleural line, long, hyperechoic, well-defined, dynamic, erasing A lines. Three or more B lines in a single view are called B+ lines

Lung sliding
Alveolar consolidation

Lateral subposterior approach assessing:

Consolidation or effusion

DVT

diagnosed by visualisation of intraluminal thrombosis or absence of compressibility
On completion of study, the authors analysed combinations of ultrasound signs that gave a sensitivity and specificity of >90% for the diagnosis, as assessed by the gold standard investigation. The following profiles were assigned:
A profile

Anterior predominant bilateral A lines associated with lung sliding (with possible focalized B lines)

A' profile

A profile with abolished lung sliding and without lung point

B profile

Anterior predominant bilateral B+ lines associated with lung sliding (with possible focalized A lines)

B' profile

B profile with abolished lung sliding

A/B profile

Anterior predominant B+ lines on one side, predominant A lines on the other

C profile 

Anterior alveolar consolidation(s)

PLAPS profile

Posterior and/or lateral alveolar consolidation and/or pleural effusion

Normal profile

A profile without PLAPS (regardless of posterior A or B lines)
Gold Standard Investigation
Official diagnosis by the ICU team blinded to the test of interest

History, examination, radiography read by radiologists, CT (n=38), ECHO (n=not reported), blood tests, response to treatment
Outcome
Primary outcome: no primary outcome defined


Algorithm developed for performing and interpreting lung ultrasound (The BLUE protocol). The BLUE protocol, retrospectively, gave an accurate diagnosis for 90.5% of patients
Authors' Conclusions
In 90.5% of cases of respiratory failure, an immediate accurate diagnosis was made with respiratory ultrasound.
Strengths
Blinding of clinicians determining the gold standard investigation to the test of interest
Use of consecutive patients. However, as there were only two clinicians performing the ultrasound, the patients were likely to be consecutive as long as one of these two staff were present, rather than including all consecutive patients who were admitted to the intensive care.
Standardised protocol for performing ultrasound scan
Weaknesses
Excluded patients post hoc with multiple diagnoses etc. This is a major weakness as when we perform a scan we do not know if our patient will have a rare diagnosis or multiple pathology. This means that the sensitivity and specificity are likely to be lower than reported
The two staff performing the ultrasound have extensive experience. This may limit the external validity of the study.
The level of agreement between the two clinicians performing the ultrasounds was not reported (the kappa score)
No validation group
Confidence intervals for results not reported in trial. (We have calculated them)
Sensitivity for C profile for diagnosing pneumonia was reported as 11% in text and 21% in table. We have calculated it at 22%.
Not registered on https://clinicaltrials.gov/
The Bottom Line
In patients with acute respiratory failure bedside, ultrasound appears to help determine the diagnosis. Validation studies are required to confirm the utility of the BLUE protocol. Due to biases in the study design the performance of the BLUE protocol is likely to be less accurate than the results reported in this trial.
External Links
Metadata
Summary author: David Slessor
Summary date: 24th Feb 2016
Peer-review editor: Adrian Wong