TRACHUS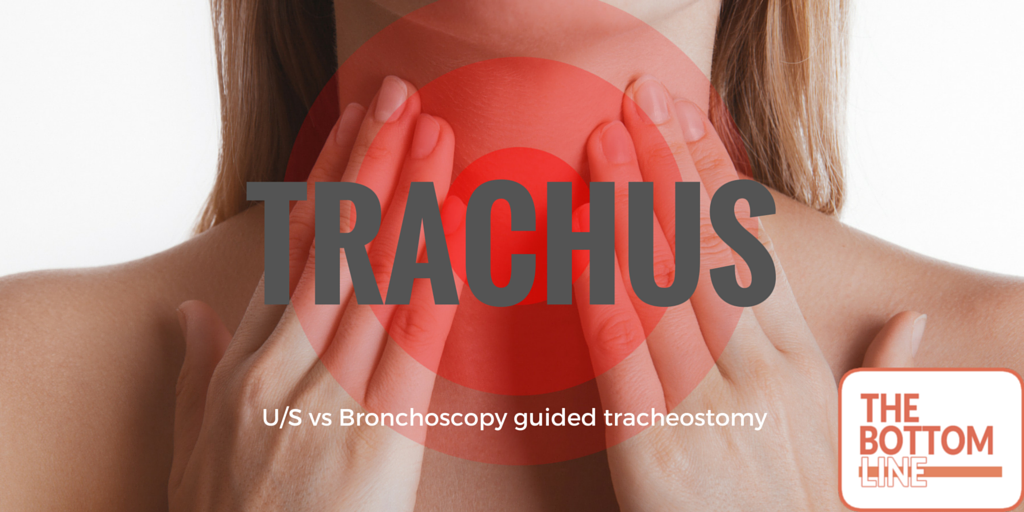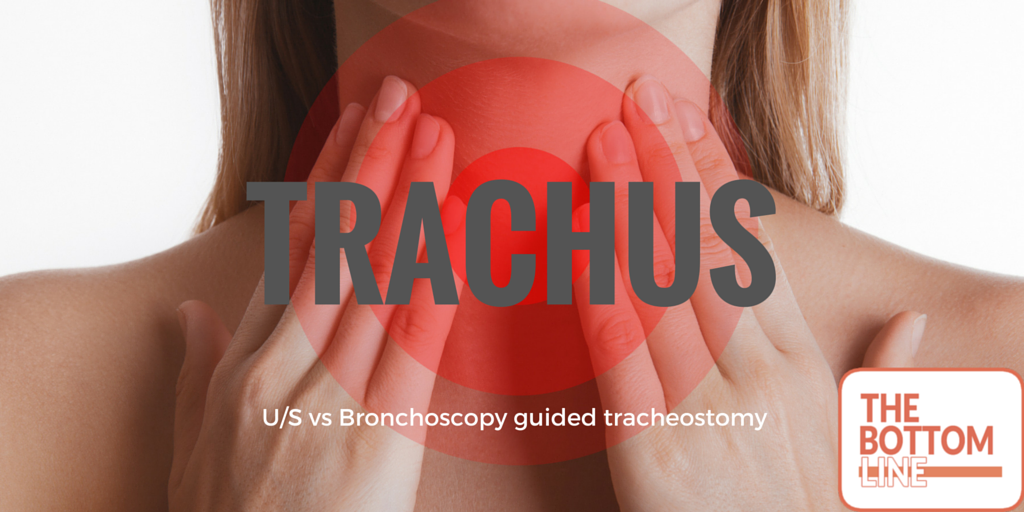 Ultrasound-guided percutaneous dilational tracheostomy versus bronchoscopy-guided percutaneous dilational tracheostomy in critically ill patients (TRACHUS): a randomized noninferiority controlled trial
Gobatto. 2016; Mar;42(3):342-51. doi: 10.1007/s00134-016-4218-6
Clinical Question
Is ultrasound guided percutaneous tracheostomy (PCT) a non-inferior technique compared with bronchoscopy guided PCT?
Design
Prospective
Non-inferiority
Randomised control trial
Random permuted blocks using an automated third party internet based service
Non blinded
Sample size 114 patients: Power of 90%. 1.2 % rate of primary outcome in bronchoscopy PCT groups previously. Assuming absolute non-inferiority margin of 6% at one-sided alpha significance of 0.05
Setting
Single centre study
8 ICUs in Sao Paulo University
March 2014 – May 2015
Population
Inclusion: Adult patients, intubated, mechanically ventilated and indicated for a tracheostomy
Exclusion: Unsuitable anatomy; short neck; tracheal deviation; cervical anomaly; previous cervical surgery; cervical trauma; cervical tumours; unable extend neck; inability to get written consent
4965 assessed for eligibility. 171 patients eligible, 118 randomised
Well matched except SAPS score at ICU admission
Intervention
Ultrasound-guided PCT

Midline identified by transverse scan
Longitudinal plane 2nd/3rd ring
Real time puncture in transverse plane at midline
Control
Bronchoscopy guided PCT

Airway cartilages identified
2nd/3rd space identified and punctured
Direct observation
Outcome
Primary outcome: No significant difference in composite outcome (conversion to surgical tracheostomy, switching groups or major complication) between US-guided PCT and bronchoscopy-guided PCT

major complications: death, cardiac arrest, tracheal wall injury, false passage, pneumothorax, pneumomediastinum, oesophageal injury, TOF, persistent hypotension, persistent acute hypoxaemia, major bleeding, tracheostomy sepsis
one failure in each group (1.7%)

US group – insertion between 5th and 6th tracheal ring leading to tracheal laceration and mediastinitis
Bronchoscopy group – insertion causing tracheal laceration and pneumomediastinum

Secondary outcome: No statistically significant difference in minor complications
20 (33%) US group vs 12 (20.7%) bronchoscopy group; p=0.122

minor complications: procedural length, procedural difficulty, alive ventilator free days at 60 days, ICU mortality, Minor complications (transient hypotension, transient acute hypoxia, cuff puncture, decannulation, stoma infection, localised minor bleeding, localised emphysema)
Authors' Conclusions
US-guided PCT is non-inferior to bronchoscopy-guided PCT in mechanically ventilated patients in the ICU
Strengths
Prospective randomisation
Allocation concealment
Limited exclusion criterion
High percentage of enrolments of eligible patients
The clinical outcomes were clinically relevant and the data analysis was blinded
Weaknesses
Single-center investigation
Composite primary end point and small sample number to detect complications
Non-inferiority margin of 6 % might be considerably high for the low primary outcome incidence rate
Followed only until hospital discharge and were not assessed for late complications such as tracheal stenosis, vocal abnormalities, or scar characteristics
Blinding was not possible
Larger study to detect minor complications may have shown significance
The Bottom Line
US-guided was not inferior to bronchoscopy-guided PCT. Although the study was underpowered to detect differences for minor complications (50% more in the US group)
Ultrasound has been shown to be useful to aid placement of a percutaneous tracheostomy. I will now use ultrasound to aid landmark identification of the correct tracheal space
However, this study has not completely changed my practice. I will continue to use ultrasound and bronchoscopy for my percutaneous tracheostomies because of their distinct safety features. Ultrasound can detect vessels and thyroid beneath the puncture site and potentially avoid significant haemorrhage. Bronchoscopy can detect oesophageal perforations with the needle prior to dilatation. Why choose between bronchoscopy and ultrasound when we can use both?
External Links
Metadata
Summary author: Phil McGlone
Summary date: March 7th 2016
Peer-review editor: Celia Bradford