Sessler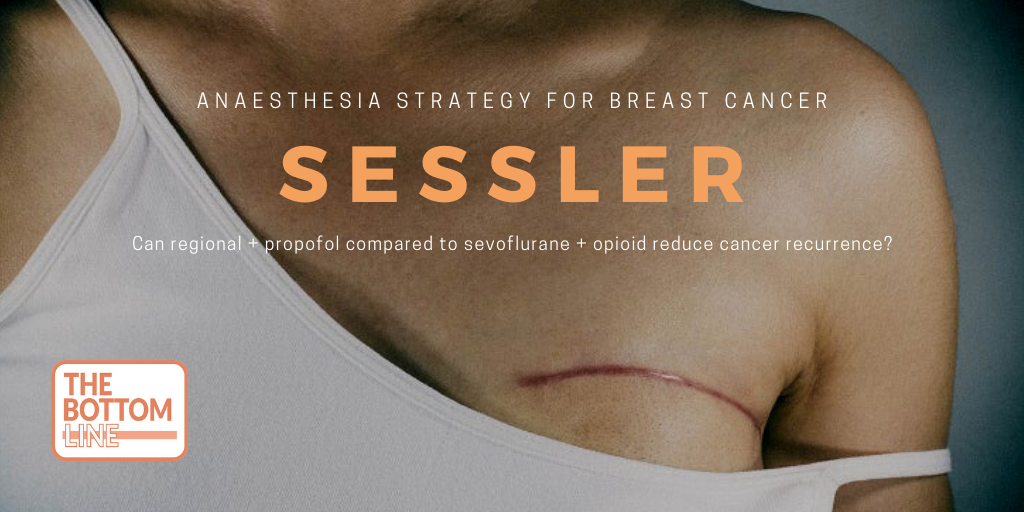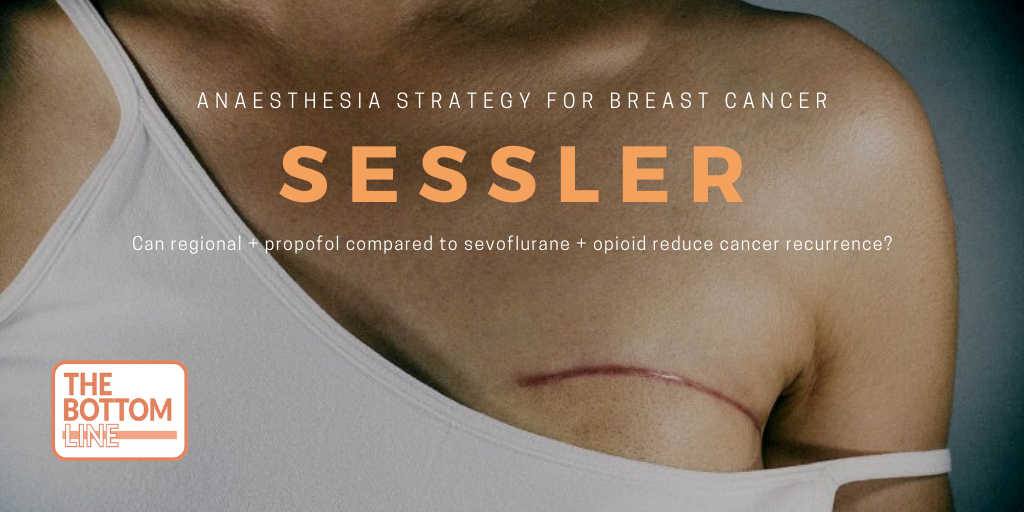 Recurrence of Breast Cancer after regional or general anaesthesia: A randomised control trial.
Sessler D et al. Lancet 2019 November ; 394:1807-1815. :DOI: 10.1016/S0140-6736(19)32313-X
Clinical Question
In patients with breast cancer having potentially curative surgery, does a strategy of paravertebral block and propofol anaesthesia, compared to a strategy of opioid and sevoflurane anaesthesia, reduce local or metastatic recurrence?
Background
Studies have debated the effect of anaesthetic technique on cancer recurrence
Volatile anaesthesia and opioids have been associated with immunosuppression and increased metastatic tumour cell activity in vitro, while propofol and regional anaesthesia have been shown to reduce those effects
Breast cancer is the most common cancer in women, causing 11,400 deaths a year
Previous studies have shown mixed results- some have suggested a reduction in breast cancer recurrences with regional anaesthesia, others have shown no difference
Design
Randomised, multicentre, single blind study

1:1 computerised generated randomisation, stratified by study site with random blocking
Allocation concealment until shortly before surgery
Follow up performed by blinded investigator
Intention-to-treat analysis
356 recurrences need to be observed to give 85% power to detect 30% reduction in cancer recurrence
Interim analysis to be performed at 25%, 50%, and 75% of recruitment
Expected to complete in 5 years
Primary outcome method assessed using adjusted Cox proportion hazard model
Secondary outcomes assessed using Wilcoxon Rank Sum
Setting
13 Hospitals across 8 countries

Argentina, Austria, China, Germany, Ireland, New Zealand, Singapore, USA

Jan 2007 to Jan 2018
Population
Inclusion

Women <85
Primary breast cancer (tumour stage 1-3, nodes stage 0-2)
Unilateral or bilateral mastectomy, with or without implants OR
Wide local excision with node dissection

Exclusion:

Previous breast cancer surgery
Inflammatory breast cancer
Free flap reconstruction
ASA IV or higher
Contraindication to either approach
Another cancer

2134 patients randomised, 2108 patients included in final analysis
Baseline demographics similar between groups

59% recruitment from China
Intervention
Ultrasound guided paravertebral block at T1-T5

Multiple injection technique used

Propofol 60–90mcg/kg/min as maintenance
Supraglottic airway preferred over ETT
Conventional general anaesthetic permitted if block failed
Control
1–3mcg/kg fentanyl, 2–4mg/kg propofol induction
ETT or Supraglottic airway
Sevoflurane in 20% Nitrous and 80% O2 maintenance
Ventilated to ETCO2 4kPa
Fentanyl boluses intraoperatively
Management common to both groups
Midazolam/fenanyl premed
Opioids as clinically necessary
Temperature control, haemoglobin targets, depth of anaesthesia monitoring, and management of PONV standardised
Paracetamol and NSAIDS as post-op analgesia

IV patient controlled analgesia (PCA) with opiates if needed

Transition to oral agents over 24 hours
Outcome
Primary outcome: Recurrence free cancer survival

Study terminated at 50% analysis – 211 recurrences analysed
102/1043 recurrences in regional group (10%) vs 111/1065 recurrences (10%) in GA group
No significant difference
No significant difference seen on multiple subgroup analyses

Secondary outcome:

Chronic pain at 6 and 12 months: no difference
Opioid consumption at 48 hours: no difference
PONV in recovery: 8% vs 20%
PONV at 48 hours: no difference
Authors' Conclusions
Regional anaesthesia-analgesia by paravertebral blocks and propofol did not reduce breast cancer recurrence after potential curative surgery compared with general anaesthesia with the volatile anaesthetic sevoflurane and opioids for analgesia
Strengths
Important clinical question
Randomised
Blinded
Registered on clinicaltrials.gov
Intention to treat analysis
Multi-centre recruitment providing strong external validity
Weaknesses
Trial terminated early, so technically underpowered
Surgical technique not standardised
Slow recruitment (11 years)

Significant changes in breast cancer treatment during this time may have affected results

Paravertebral technique not standardised, limiting internal/external validity
Paravertebral technique used does not reflect what is currently considered best practice (a single targeted injection below the costotransverse ligament, with pleural drop as the end point)
The sensory level of the blocks were not tested prior to- or post- anaesthesia

While this may be important for blinding, it does bring into question their low block failure rate of 5/1043

The majority of the recruits were from China

While there were no differences seen on subgroup analysis by ethnicity, other factors such as surgical technique or medical follow up may have skewed results
The Bottom Line
This large RCT of opiate-free anaesthesia with paravertebral block compared to sevoflurane and opioid based anaesthesia did not show any differences in breast cancer recurrence rates
It was underpowered, slow to recruit, and did not standardise the regional technique used, and therefore is not a conclusive trial comparable to my local practice

The role of anaesthetic technique in cancer care remains uncertain
External Links
Metadata
Summary author: Segun Olusanya
Summary date: 23 Nov 2019
Peer-review editor: Duncan Chambler