Drakulovic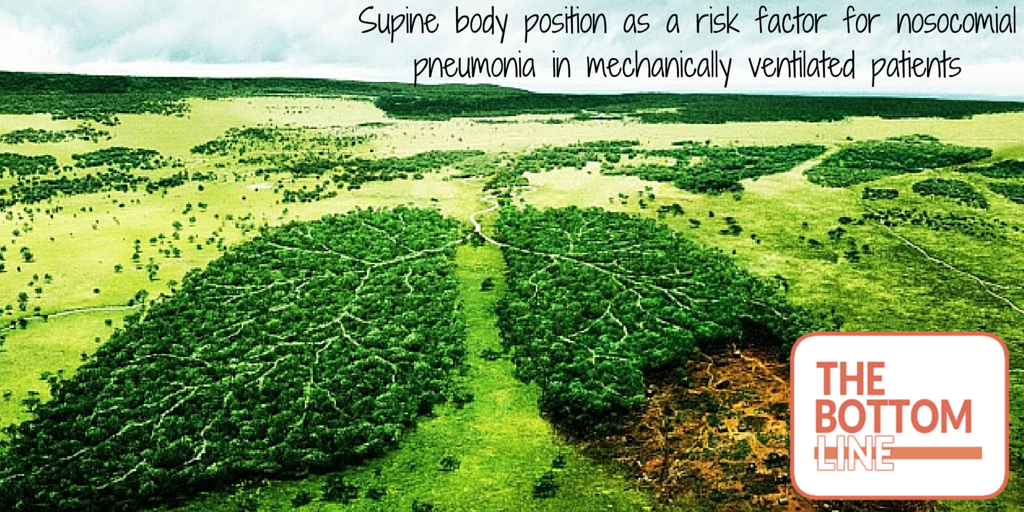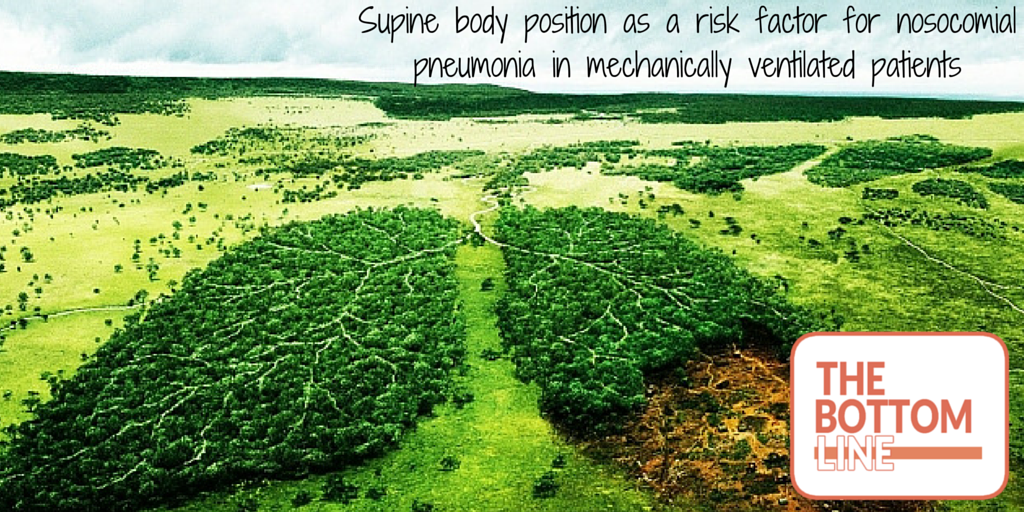 Supine body position as a risk factor for nosocomial pneumonia in mechanically ventilated patients: a randomised trial
Drakulovic. Lancet 1999;354:1851-58
Clinical Question
In patients who are mechanically ventilated does the semi-recumbent position vs. supine position reduce clinically suspected pneumonia?
Design
Randomised controlled trial
Computer-generated list
Consecutive patients
Sample size calculation: 182 patients required to show a 20% absolute risk reduction with a projected frequency in the supine group of 40%, with a false negative rate of 20% and false positive rate of 5%
Planned interim analysis completed after 50% recruitment. This demonstrated a significant difference and the trial was stopped early
Modified intention to treat analysis
Non-blinded
Univariate and multivariate analysis completed
Setting
A respiratory ICU and a medical ICU in a tertiary university hospital in Spain
June 1997 – May 1998
Population
Inclusion criteria: Not stated
Exclusion criteria: Abdominal or neurosurgical intervention within 7 days; shock refractory to vasoactive drugs or volume therapy; previous endotracheal intubation within 30 days
90 patients randomised

47 patients randomised to control group, all completed and included in trial
43 patients randomised to intervention group, 4 patients excluded (1 died during resuscitation, 3 excluded due to protocol violation [re-intubation])

Comparing intervention vs. control groups

Mean age: 67 vs. 63
Cause of acute respiratory failure

COPD: 34% vs. 33%
Other pulmonary diseases 26% vs. 21%

Mean APACHE II Score: 23.8 vs. 21.3
Duration of mechanical ventilation (hrs): 171 vs. 145
Use of large bore NG tube: 87% vs. 72%
Enteral nutrition: 60% vs. 56%
Intervention
Semi-recumbent (45 degrees)
Control
Supine body position (0 degrees)
All patients routinely subjected to:
Sterile endotracheal suctioning
No change of mechanical ventilation tubing systems
Stress ulcer prophylaxis with sucralfate in patients who tolerated enteral nutrition, and IV ranitidine or omperazole in patients receiving TPN
Enteral nutrition

Starting rate 33.3ml/hr
Gastric aspiration performed every 4 hours
Target feed 30-35 kcal/kg/day
Study completed when any of the following criteria met:
1st weaning trial
Extubation
Permanent change in body position for >45 minutes
Death
Outcome
Primary outcome: frequency of clinically suspected pneumonia (Defined as new and persistent infiltrates on Chest x-ray most likely to be due to infection, + at least 2 of: temp >38.3; WBC <4 or >12; purulent tracheal secretions)

Significantly lower in semi-recumbent vs. supine: 8% vs. 34% (95% C.I. for difference 10-42, P=0.003)

Secondary outcomes:

Microbiological confirmed pneumonia (defined in patient with clinically suspected pneumonia with bacterial growth above defined threshold of pathogenic microorganism in tracheobronchial aspirate, bronchoalveolar lavage, or protected specimen brush)

Significantly lower in semi-recumbent vs. supine: 5% vs. 23% (95% C.I. for difference 4-33, P=0.018)
Incidence rate of microbiologically confirmed pneumonia 7.3/1000 ventilator days in semi-recumbent vs. 28.4/1000 ventilator days in supine

Incidence of clinically suspected pneumonia: 10.9/1000 ventilator days in semi-recumbent vs. 41.2/1000 ventilator days in supine
ICU mortality – no significant difference

18% in semi-recumbent vs. 28% in supine (95% C.I. -7.6 to 27.6, P=0.289)

Univariate logistic regression analysis demonstrated that enteral nutrition and supine body position were significantly associated with clinically suspected and microbiologically confirmed pneumonia
Authors' Conclusions
In mechanically ventilated patients nosocomial pneumonia is reduced with the use of a semi-recumbent position
Strengths
Randomised controlled trial
Clear definition for primary and secondary outcomes
Weaknesses
Terminated early with low number of patients included
Outcome assessors non-blinded
Inclusion criteria not clearly defined
Single hospital
The Bottom Line
This small randomised trial has a number of weaknesses, but still provides convincing evidence that the risk of clinically suspected, and microbiologically confirmed pneumonia, is reduced in mechanically ventilated patients who are semi-recumbent vs. supine.
External Links
Metadata
Summary author: Dave Slessor
Summary date: 6th December 2015
Peer-review editor: Steve Mathieu