APROCCHSS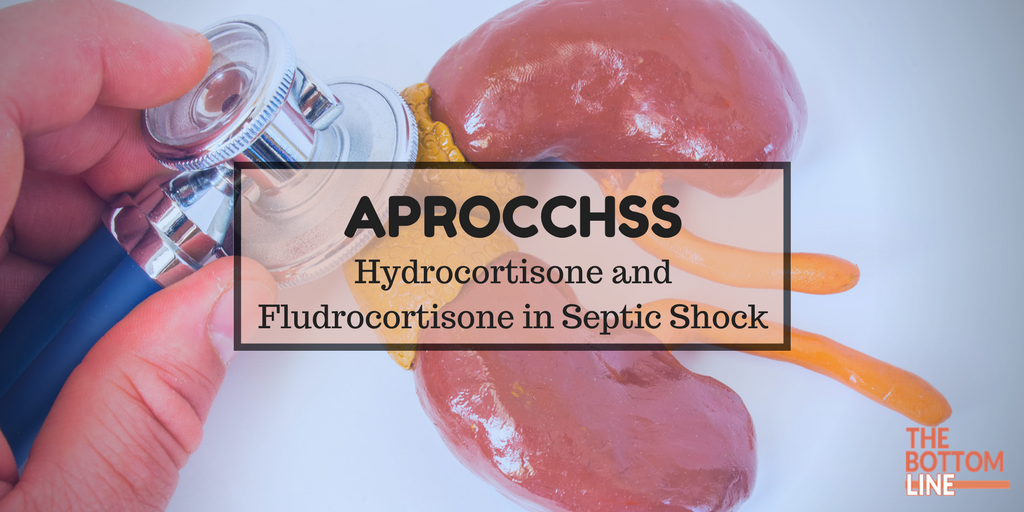 Hydrocortisone plus Fludrocortisone for Adults with Septic Shock
Annane. NEJM 2018; 378: 809-818. DOI: 10.1056/NEJMoa1705716
Clinical Question
In critically ill patients with septic shock, does the combination of hydrocortisone plus fludrocortisone therapy reduce 90 day mortality?
Background
The use of steroids in critically ill patients continues to be controversial. Whilst there are signals for improved cardiovascular parameters, this did not translate to clear mortality benefits.
The most recent of these trials (ADRENAL, 2018), concluded that among patients with septic shock undergoing mechanical ventilation, a continuous infusion of hydrocortisone did not result in lower 90-day mortality than placebo.
Design
Multi-centre
Randomised placebo controlled trial
Double blinded
Initially designed to have 4 parallel groups to evaluate benefits/risks of steroids and drotrecogin alfa (DAA) in a 2 by 2 factorial design

Original 4 groups

Group 1: Corticosteroids placebo + DAA placebo
Group 2: Corticosteroids + DAA placebo
Group 3: Corticosteroids placebo + DAA
Group 4: Corticosteroids + DAA

When drotrecogin alfa was withdrawn from the market, the trial was continued with 2 parallel groups

Group 1 and 3 combined
Group 2 and 4 combined

Randomised by permuted blocks of 8
Intention to treat analysis
Sample size calculation

Based on anticipated 90 day mortality of 45% among pts with septic shock
320 pts required in each of the original 4 groups (1280 pts total) for 95% power to detect an absolute difference of 10% in 90 day mortality (α=0.05)
Setting
34 French ICUs
September 2008 – June 2015

Trial suspended twice: October 2011 – May 2012 (DAA withdrawal) and July 2014 – October 2014 (request of data and safety monitoring board to check the quality of the trial agents and the distribution of the serious adverse events)

1671 patients screened; 1241 randomised into 4 groups
Population
Inclusion: Intensive care patients with indisputable or probable septic shock for less than 24 hours

Septic shocked defined as clinically or microbiologically documented infection
SOFA score of 3 or 4 for at least 2 organs and at least 6 hours in duration
Vasopressor therapy for at least 6 hours to maintain a systolic blood pressure of at least 90mmHg or a mean blood pressure of 65mmHg

Exclusion:

Presence of septic shock for more than 24 hours
High risk of bleeding
Pregnancy or lactation
Underlying condition which would limit short-term survival
Known hypersensitivity to drotrecogin alfa (later removed)
Previous treatment with corticosteroids

Baseline characteristics were similar: intervention vs placebo group

Mean age (years): 66 vs 66
Male sex (%): 65.5 vs 67.7
Medical admission (%): 82.4 vs 81
SOFA score: 12 vs 11
Site of infection (%)

Unknown: 1.8 vs 2.9
Lung: 60.7 vs 58.0
Abdomen: 12.1 vs 10.9
Urinary tract: 16.6 vs 18.8

Positive blood culture (%): 36.6 vs 36.6
Vasopressor administration

Epinephrine

Number of pts: 53 vs 58
Dose (mcg/kg/min): 2.31 vs 1.74

Norepinephrine

Number of pts: 534 vs 552
Dose (mcg/kg/min): 1.02 vs 1.14

Mechanical ventilation (%): 92.3 vs 91.3
RRT (%): 27.0 vs 28.1
% of pts who received DAA: 17.1 (105/614) vs 16.4 (103/627)
Intervention
Hydrocortisone

50mg IV bolus every 6 hours

Fludrocortisone

50 mcg tablet once in the morning

Administered for 7 days without tapering
Control
Placebo

Similar in appearance and manufactured for the trial
Management common to both groups
Before randomisation, plasma total cortisol levels measured before, 30 and 60 minutes after IV bolus of 250 mcg of corticotrophin (Synacthen)
Other interventions were harmonised across centres according to 2008 Surviving Sepsis Campaign guidelines
National guidelines for the prevention of superinfection were followed
Outcome
Primary outcome: Significant reduction in 90 day mortality in intervention compared to control group

Intervention group: 264 of 614 (43.0%) patients had died
Control group: 308 of 627 (49.1%) patients had died
Relative Risk (RR): 0.88 (95% CI 0.78 to 0.99; P=0.03)
Absolute Risk Reduction (ARR): 6.1% (95% CI 0.6% to 11.7%; P=0.03)
Number Needed to Treat (NNT): 17
Fragility Index (FI): 3

Secondary outcome: Intervention vs control group

Significantly in favour of intervention group

All cause mortality at ICU discharge

35% vs 41% (RR 0.86; 95% CI 0.75–0.99; P=0.04)

All cause mortality at hospital discharge

39% vs 45% (RR 0.86; 95% CI 0.76–0.98; P=0.02)

All cause mortality at 180 days

47% vs 52% (RR 0.89; 95% CI 0.79–0.99; P=0.04)

No of days that pts were alive and free from vasopressors up to 28 days

mean 17+/-11 vs 15+/-11, P<0.001

Organ-failure-free days up to day 28

mean 14+/-11 vs 12+/-11, P=0.003

% of pts weaned from vasopressors at 28 days
% of pts weaned from mechanical ventilation at 28 days
% of pts with SOFA score below 6 at day 28

No significant difference between groups

All cause mortality at 28 days

34% vs 39% (RR 0.87; 95% CI 0.75–1.01; P=0.06)

% of pts from whom care was withheld or withdrawn
No of days that pts were alive and free from mechanical ventilation up to 28 days

mean 11+/-11 vs 10+/-11, P=0.07

Safety outcomes/Incidence of serious adverse events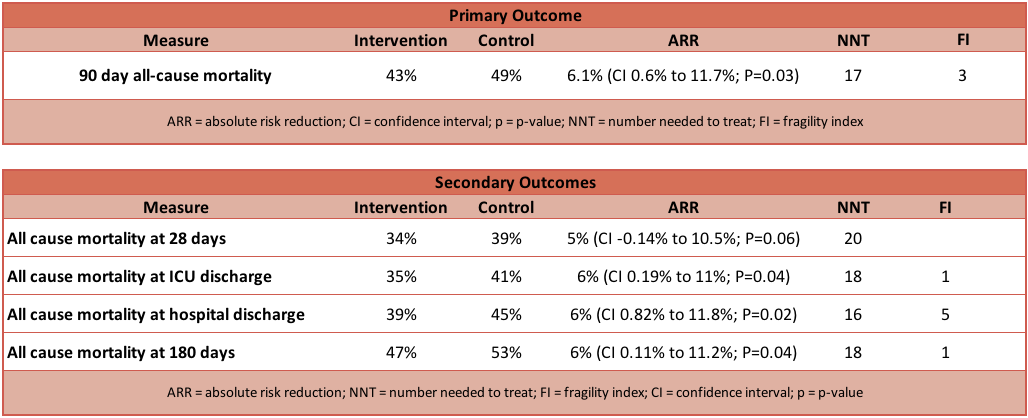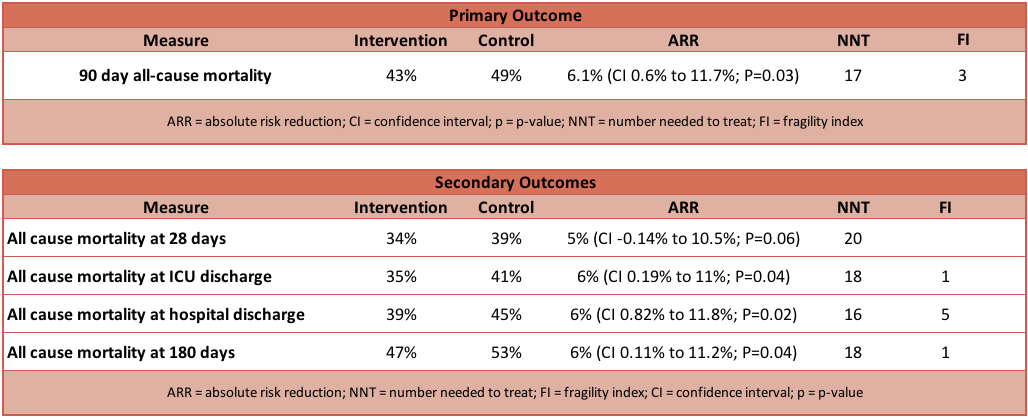 Authors' Conclusions
In critically ill patients with septic shock, the addition of hydrocortisone and fludrocortisone compared to placebo was associated with a significant improvement in mortality at 90 days.
Strengths
Randomised controlled trial
Multi-centre
Intention to treat analysis
Appropriate primary outcome
Appropriateness of antibiotic therapy recorded
Weaknesses
The trial was initially designed and powered with DAA being part of the therapy. The withdrawal of DAA has impacted aspects of this trial including statistical power calculation

Statistical analysis published in supplementary material suggest no interaction with DAA and other treatments
The Fragility Index for several of the outcomes (including primary outcome) in favour of intervention is in single figures

Outcome of Synacthen test conducted pre-randomisation was not mentioned or discussed in main paper

Results discussed in supplementary material section where there was no difference between responders and non-responders in those from which the Synacthen test was actually conducted

The trial was conducted using the Surviving Sepsis Guidelines from 2008 which has since been updated
Very sick patient population – the high doses of vasopressors used in the trial population may limit external validity
Not all secondary endpoints included in original trial protocol reported on in final manuscript
The Bottom Line
The addition of fludrocortisone and its effect is less well investigated compared to hydrocortisone by itself. It is not my current practice to administer this drug for refractory septic shock
Primary and secondary outcomes, including safety profile, shows a trend in favour of the corticosteroid group (consistent with the findings of the ADRENAL trial)
I will continue my current practice of using hydrocortisone IV (6 hourly) for refractory septic shock
External Links
Metadata
Summary author: Adrian Wong
Summary date: 15 March 2018
Peer-review editor: Segun Olusanya