HYBERNATUS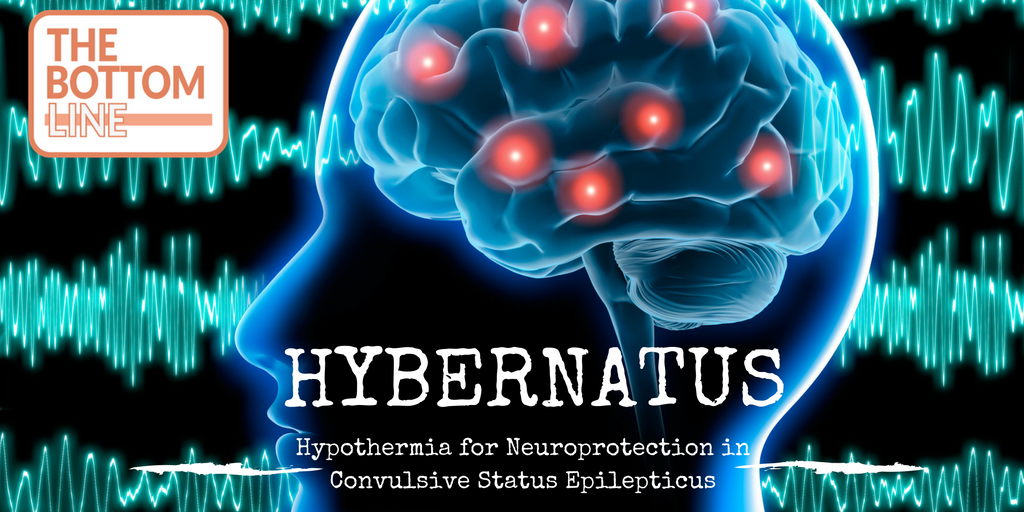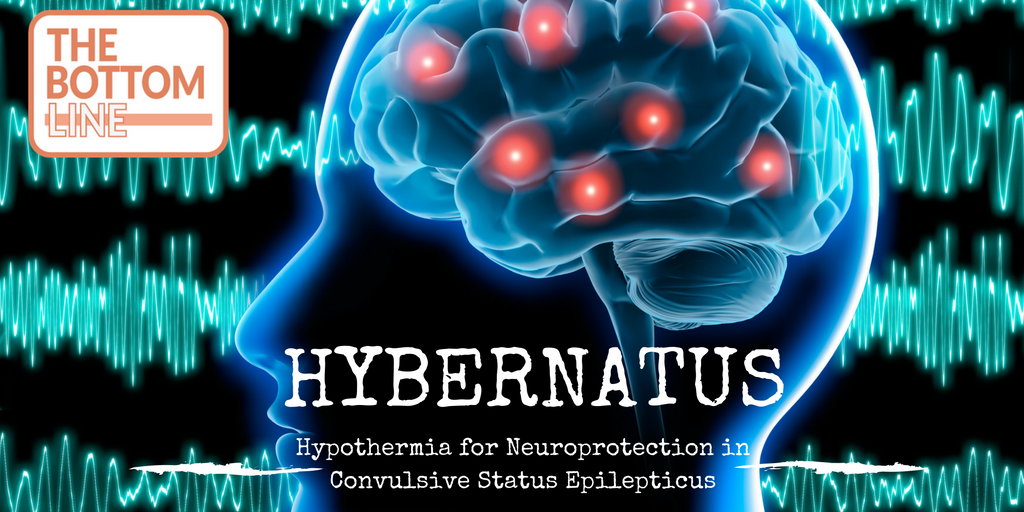 Hypothermia for Neuroprotection in Convulsive Status Epilepticus
Legriel S et al. N Engl J Med 2016;375:2457-67. DOI: 10.1056/NEJMoa1608193
Clinical Question
In patients with convulsive status epilepticus, does the addition of therapeutic hypothermia to standard care improve neurological outcomes?
Design
Randomised controlled trial

Consecutive recruitment
Computer-generated permuted blocks

Multi-centre
Open-labelled
Parallel arm standard care
Power calculation: 135 patients per group to demonstrate 20% difference in Glasgow Outcome Score (GOS) of 5 at 90 days (90% power)

Assumed 40% in standard care group vs 60% in intervention group
Intention to treat analysis
Setting
11 French ICUs
Data collected: March 2011 – January 2015
Population
Inclusion criteria:

≥18 years old
Convulsive status epilepticus admitted to ICU defined as 5 minutes or more of continuous clinical seizure activity or more than two seizures without a return to baseline in the interval
Admitted less than 8 hours after the onset of seizures
Receiving mechanical ventilation

Exclusion criteria:

Full recovery from seizure (defined as a return to the baseline state of consciousness)
Emergency surgery that would preclude therapeutic hypothermia
Postanoxic status epilepticus
Imminent death
Do-not-resuscitate orders
Bacterial meningitis was added in January 2013

Participant numbers

270 patients enrolled. 2 withdrew consent
138 assigned to intervention group and 130 to control group

Baseline characteristics:

Median age 57
65% male
49% known history of epilepsy
Intervention
Target core temperature of 32 to 34°C as rapidly as possible post randomisation
Target temperature maintained for 24 hours
Hypothermia induced with ice-cold IV fluids at 4°C, maintained with ice packs at the groin and neck and a cold-air tunnel around the patient's body
Control
No target temperature set
For both intervention and control group
Propofol as sedative agent
Continuous EEG monitoring within 2 hours of randomisation

Continued for at least 48 hours or normothermia in the intervention group

Standard EEG extracted and intepreted by neurophysiologists
If EEG-proven seizure activity seen, propofol administered to achieve burst-suppression pattern for 24 hours
Continuous core temperature monitoring by oesophageal probe
Outcome
Primary outcome: GOS score of 5 (indicating survival with no or minimal neurological deficit)

No significant difference: 49% in intervention vs 43% in control (CI 0.75 – 1.99, p=0.43)

Secondary outcomes: comparing intervention vs. control group

No significant difference in:

ICU mortality: 9% vs 12%, odds ratio 0.83 (CI 0.38 – 1.82, p=0.64)
Hospital mortality: 12% vs 15%, odds ratio 0.81 (CI 0.40 – 1.64, p=0.55)
Mortality at 90 days post discharge: 13% vs 15%, odds ratio 0.86 (CI 0.43 – 1.72, p=0.67)
Total seizure duration: Median 75min vs 90min, p=0.26)
Refractory status epilepticus on day 1: 31% vs 50%, odds ratio 0.68 (CI 0.40 – 1.15, p=0.15)
Super-refractory status epilepticus, defined as ongoing or recurrent status epilepticus between 24 and 48 hours after the initiation of anaesthetic treatment: 17% vs 23%, odds ratio 0.64 (CI 0.34 – 1.159, p=0.16)
Length of stay in ICU: Median 8 days vs 7 days, p=0.44
Length of stay in hospital: Median 21 days vs 19 days, p=0.89
Incidents of 1 or more adverse events: 85% vs 77%

Significant difference in progression in EEG-confirmed status epilepticus: 11% vs 22%, odds ratio 0.4 (CI 0.20 – 0.79, p=0.009)
Authors' Conclusions
In critically ill patients with convulsive status epilepticus receiving mechanical ventilation, the addition of therapeutic hypothermia to standard antiepileptic therapy showed no significant benefit with respect to good functional outcome
Strengths
RCT
Incidence of primary outcome in control group in line with power calculations
Standardised initial treatment with anti-epileptic drugs similar in both groups
Standardised sedation protocol
Separation of temperature between intervention and control group achieved
Hypothermia target achieved in 98% of patients randomised to intervention group
Weaknesses
Only 25% of patients were in status epilepticus as defined at the time of randomisation
Early utilisation of hypothermia not standard practice
The Bottom Line
This study only looked at patients with status epilepticus requiring mechanical ventilation. Despite the early use of induced hypothermia, the lack of clear functional benefit means that I would continue not to use it in my current practice.
External Links
Metadata
Summary author: @avkwong
Summary date: 4th January 2017
Peer-review editor: @stevemathieu75