POCUS: Moretti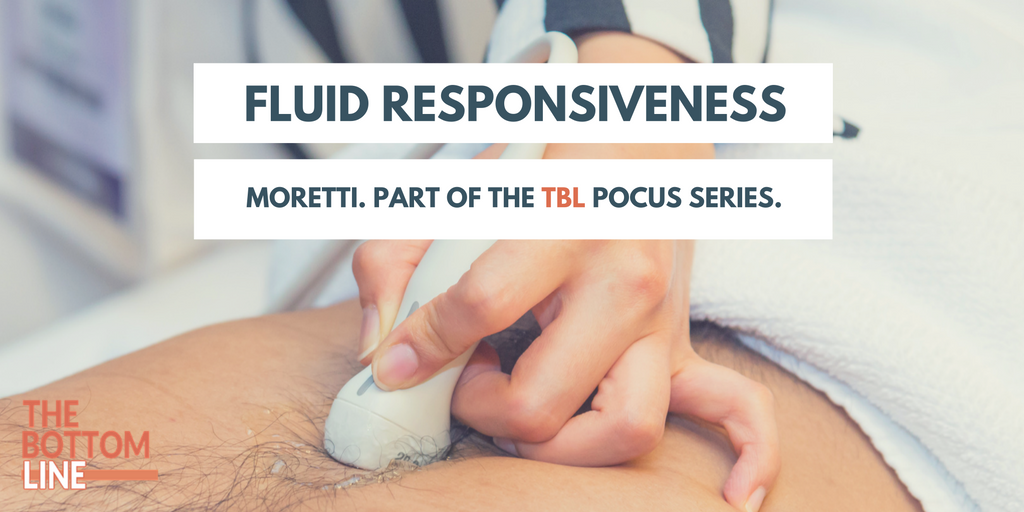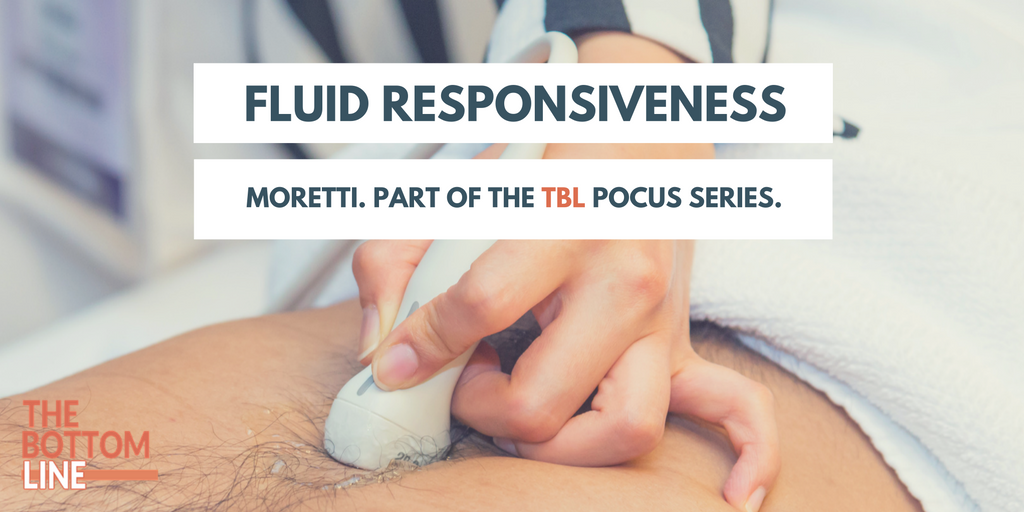 Inferior vena cava distensibility as a predictor of fluid responsiveness in patients with subarachnoid hemorrhage
Moretti. Neurocrit Care. 2010 Aug;13(1):3-9. doi: 10.1007/s12028-010-9356-z
Clinical Question
In mechanically ventilated patients with subarachnoid hemorrhage (SAH) and a low cardiac index, does the distensibility of IVC on ultrasound, predict fluid responsiveness?
Design
Prospective observational study
Consecutive patients
Statistics:

No sample size calculation
Comparisons of:

Quantitative variables between groups: independent, two-tailed t test
Categorical data: Fisher's test
Repeated measurements: paired t test
Inter-rater reliability: Pearson's correlation coefficient

Blinding: ultrasonographers blinded to haemodynamic parameters and not involved in patient care
Intra and inter-observer variability of test of interest determined with repeated measurements in 10 patients
Setting
Single 10 bedded intensive care unit, Italy
August 2008 and July 2009
Population
Inclusion criteria:

Adult patients with SAH (Fisher Grade 3/4)
Requiring advanced haemodynamic monitoring, sedation, and mechanical ventilation
Haemodynamic instability: Cardiac index (CI) <2.5 l/min/m2 or a cerebral perfusion pressure (CPP) <60 mmHg

Exclusion criteria:

Pre-existing heart failure, cardiac arrhythmias, ARDS, extravascular lung water (ELWI) >14 ml/kg, inability to perform femoral artery cannulation or ultrasonography

31 patients recruited. 2 patients excluded, due to suboptimal visualisation of the IVC (n=1), ELWI >14 ml/kg (n=1)
All patients
Sedated with propofol and remifentanil to achieve bispectral index <60
Paralysed with cisatracurium. Confirmed with peripheral nerve stimulator
Given fluid challenge of 7 ml/kg infusion of 6% hydroxyethyl starch over 30 minutes
Test of interest and gold standard investigation performed at baseline and immediately post fluid challenge
Test of Interest
IVC sonography

Performed by 2 intensivists with at least 3 years (60 scans+) ultrasound experience
Use of 3.5-MHz ultrasound probe
Performed supine
During ultrasonography patients ventilated with standardised settings: volume-controlled ventilation, inspiratory:expiratory ratio of 1:2, respiratory rate of 12/min, tidal volume of 8 ml/kg and a positive end-expiratory pressure (PEEP) of 0 cm H2O
IVC diameter measured in M-mode, 2cm upstream of the origin of the suprahepatic vein. M-mode tracing perpendicular to the IVC
Maximum IVCD on inspiration (IVCDi) and minimum IVCD on expiration (IVCDe) measured
IVC distensibility index (dIVC) = (IVCDi-IVCDe)/IVCDe
Gold Standard Investigation
Thermodilution derived cardiac index

Measured with femoral PICCO line and internal jugular or subclavian central line
PEEP set at 5 cm H20 for measurements of stroke volume variation (SVV)
Patients classified as fluid responsive if cardiac index increased ≥15% with fluid challenge
Outcome
Primary outcome: the reliability of dIVC as a predictor of fluid responsiveness

Area under the ROC curve

dIVC: 0.902 (95% C.I. 0.73-0.98)


Secondary outcomes:

17 patients classified as fluid responders (FR) and 12 patients classified as non-responders (NR)
At baseline

dIVC (%) significantly higher in FR than NR (16 vs. 10, p < 0.0001)
SVV (%) significantly higher in FR than NR: (11.8 vs. 4.4, p=0.03)

Post fluid bolus

In fluid responders significant decrease in

dIVC (%) 16 ± 3.3 vs. 11.9 ± 2.3, p < 0.001
SVV (%) 11.8 ± 4.4 vs. 7 ± 2.4, p < 0.001

In non responders no significant change in

dIVC (%) 10 ± 3.4 vs. 8.7 ± 2.2, p = 0.42
SVV (%) 7.5 ± 2.9 vs. 8 ± 4.1, p=0.68

ROC curves to determine the best predictor of fluid responsiveness: Area under the curve (AUC)

SVV: 0.779 (95% C.I. 0.587-0.911)
dIVC: 0.902 (95% C.I. 0.733-0.979)
CVP: 0.667 (95% C.I. 0.468-0.829)

Intra- and inter-observer variabilities in the measurement of IVCDe were 4 ± 4% and 6 ± 4%, respectively.
Authors' Conclusions
IVC distensibility was a reliable measure for predicting fluid responsiveness in critically ill patients with SAH
Strengths
Blinding of ultrasonographers
Appropriate gold standard investigation
Clear description of how test of interest was performed
Tested for inter and intra-observer variablitiy
Weaknesses
No sample size calculation, with small numbers of patients included
External validity may be limited as:

Restrictive inclusion/exclusion criteria
PEEP changed to zero for measurement of dIVC. This will not be possible for all patients
Single centre
The Bottom Line
In patients with a grade 3/4 SAH and a low cardiac index, who are mechanically ventilated with tidal volumes of 8ml/kg, and are sedated and paralysed, dIVC was a useful predictor of fluid responsiveness. Further trials will need to determine if these results can apply to other populations.
External Links
Metadata
Summary author: David Slessor
Summary date: 25th October 2016
Peer-review editor: Duncan Chambler