SPARK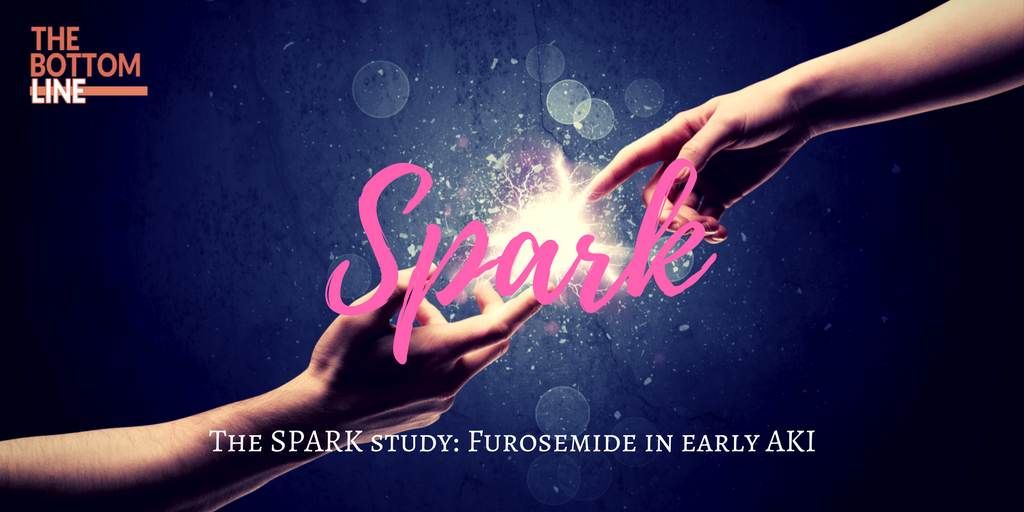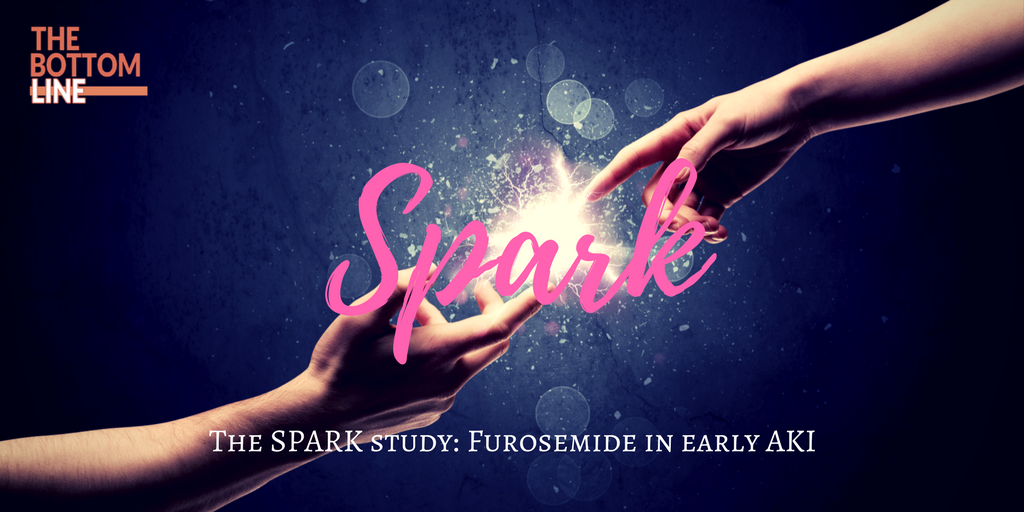 The effect of low-dose furosemide in critically ill patients with early acute kidney injury
Bagshaw. J Crit Care 2017;epublished July 12th. doi:
Clinical Question
In critically ill patients, with mild renal failure, does furosemide infusion compared to placebo worsen kidney function?
Background
Furosemide is commonly used in ICU patients with 60-70% of patients with AKI receiving diuretics
The rationale for using diuretics includes prevention of tubular obstruction, reduction in medullary oxygen consumption and increase in renal blood flow as well as reducing fluid overload and venous congestion
There is controversy as to whether this is helpful of harmful in this setting with trials providing conflicting results
Four RCTs in patients with established renal failure have not shown improvement in clinically meaningful endpoints and there are risks of harm including hearing loss
Studies in patients with RISK RIFLE AKI are lacking and of poor quality
There is also variation in practice between centres and between individual clinicians
A positive fluid balance is associated with a worse outcome in the ICU patient
It is not known if furosemide can change this risk.
Design
Pilot, randomized, blinded, placebo-controlled trial
Phase 2 trial – testing effectiveness and safety
Multicentre (3 ICUs)
Randomization 1:1, blocks of variable size (4-8), stratified for site and presence of sepsis
Blinding of study investigators and treating clinicians
Study infusion bags of furosemide and placebo appeared identical
A sample size of 214 patients was required to provide 80% power of detecting a 20% absolute reduction in the proportion who progress from RIFLE RISK class

Only 73 patients were recruited prior to early termination due to:

Study staff seconded to assist with pandemic influenza 2009
Drug shortages

Statistical analysis was by intention to treat
Setting
3 University affiliated hospitals: Canada (1) and Australia (2)
Study conducted between September 2009 and June 2014
Population
Inclusion:

RISK RIFLE category AKI (Creatinine x1.5 baseline or UO < 0.5ml/kg/hr for 6 hours)
Peripheral or central catheter + urinary catheter
>/= 2 Systemic Inflammatory Response Syndrome (SIRS) criteria
Immediate resuscitation goals met; fluid resuscitated or vasoactive agents commenced

Exclusion:

Age <18 years
Pregnancy (confirmed/suspected)
Obstructive etiology of AKI
ESKD on dialysis or transplant
Recent RRT
Recovering AKI (25% decrease in Cr)
Acute pulmonary oedema requiring urgent furosemide
Patient already on furosemide infusion
Moribund/expected to die within 24 hours or limits of medical therapy
Prior enrolment

Baseline demographics were similar between groups although those in the furosemide group had more exposure to vancomycin (67.6% vs 38.9%).
Intervention
2000mg of furosemide was put in 500ml of normal saline. A loading dose of 0.4mg/kg followed by an infusion of 0.05mg/kg/h. The infusion was titrated to achieve a urine output of 1-2ml/kg/hr (maximum 0.4mg/kg/hr)

The infusion ran for 24 hours at a minimum to 7 days maximum
The infusion was discontinued if kidney recovery occurred, RRT was commenced, death, adverse reaction attributable to study drug, ICU discharge
Control
An identical bag of 500ml normal saline was hung and run with the titration to urine output as above
Management common to both groups
Other aspects of patient management were left to the discretion of the treating clinicians
Outcome
Primary outcome: worsening of AKI as defined by progression of RIFLE category from RISK to a more severe category (INJURY, FAILURE, RRT) in the 7 days after randomization

There was no difference in the primary endpoint of worsening AKI between furosemide and placebo groups

Furosemide 43.2% vs Placebo 37.1%
Odds Ratio (as reported in paper) 1.52 (95% CI 0.61 to 3.83, P = 0.48)
Absolute Risk Increase 7.13% (95% CI -15.25% to +29.52%, P = 0.63)

There was no difference in the subgroup with sepsis or when a multivariate analysis was performed taking into account vancomycin exposure, APACHE II score, pre-randomization furosemide or oliguria.

Secondary outcome: cumulative fluid balance, serum K+/Mg++, acid-base status, rates of RRT, rates of renal recovery, hospital mortality

There was no statistical difference across secondary endpoints, although patients who received furosemide had 1081ml less in cumulative fluid balance
Authors' Conclusions
A furosemide infusion compared to placebo did not change the incidence of progression to a worse degree of kidney injury
Strengths
RCT, multicenter, allocation concealment, double blinding
Complete data for primary endpoint
Intention to treat analysis
An important clinical question based on a sound pharmacological mechanism
Weaknesses
Underpowered
Early termination increasing the chance of a Type I error
30.6% of patients in the placebo arm received supplementary furosemide (compared to 10.8% in the treatment group)
The study is limited to those with RISK category RIFLE AKI and may not apply to those with other degrees of renal dysfunction
The use of furosemide may benefit some types of renal failure, eg ATN vs renal hypoperfusion but this trial was not large enough to explore this
The Bottom Line
This trial does little to add to my clinical approach to using furosemide in patients with acute kidney injury
The small size and methodological flaws make conclusions difficult to reach
The impact of furosemide therapy on fluid balance is likely the most important consideration and I will continue to give a test bolus dose of furosemide to patients like this and be encouraged to use further diuretics if they have a good diuresis after the test dose
External Links
Metadata
Summary author: Celia Bradford
Summary date: 2 August 2017
Peer-review editor: Duncan Chambler