Vollam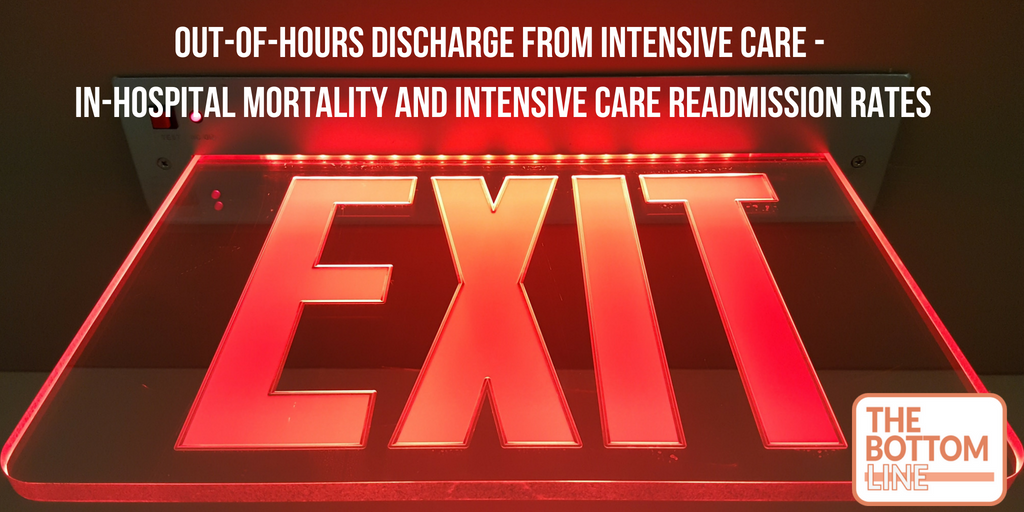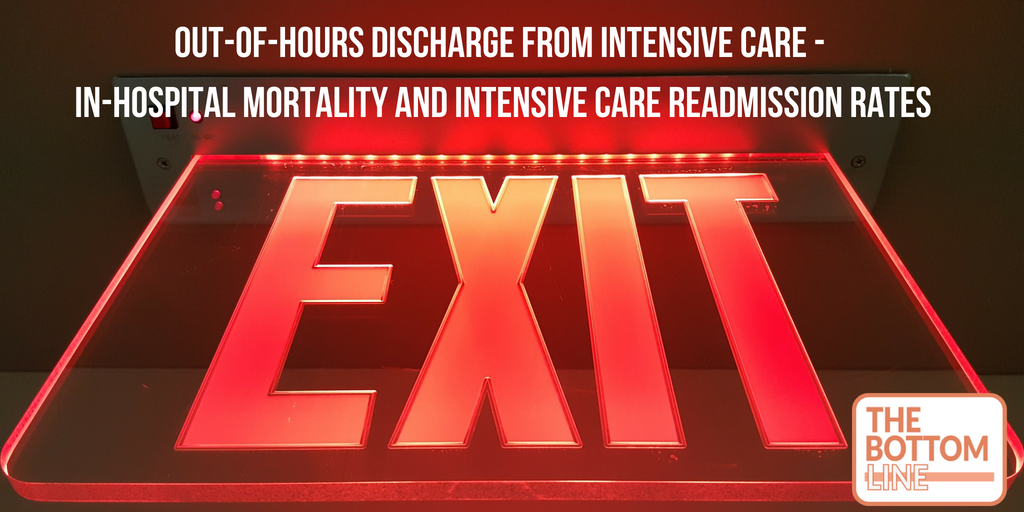 Out-of-Hours Discharge from intensive care, in-hospital mortality and intensive care readmission rates: a systematic review and meta-analysis
Vollam S. Intensive Care Medicine 2018; 44 (7): 1115-1129. doi: 10.1007/s00134-018-5245-2
Clinical Question
In patients discharged from a general ICU, is discharge "out-of-hours" compared to discharge "in-hours" associated with subsequent in-hospital mortality?
Background
Patients discharged from ICU remain at significant risk of in-hospital death, with mortalities reported between 4 – 13% in studies
Discharges from ICU occasionally occur "out of hours", when staff and facilities have reduced availability; this is sometimes due to bed pressures
There are concerns that "out of hours" discharge leads to worse care and thus increased mortality; conversely, patients considered fit for "out of hours" discharge may actually be low risk and therefore have a reduced hospital mortality
Previous research on the topic has been conflicting- the most recent analysis was conducted by ANZICS and suggested that when severity of illness was corrected for, "out of hours" discharge had no effect on mortality
Design
Systematic review and meta-analysis
Registered with PROSPERO, followed PRISMA and MOOSE guidelines where applicable
2 authors performed searches in Medline, Embase, Cumulative Index of Nursing and Allied Health Literature, Cochrane Library, and Opengray
Additional keyword and citation searches from identified studies using Medline and Web of Knowledge
2 searches performed- general search for all factors associated with post ICU mortality or readmission, and a specific search on out of hours discharges
Data summarised using a random effects meta-analysis
Between study variance computed using DerSimonian and Laird method
Study quality and risk of bias assessed using Newcastle-Ottawa scale
Pre-specified sensitivity analyses by omitting studies of different quality/risk of bias
Disagreements between two reviewers resolved by discussion or referral to a third party
Publication bias assessed by visual inspection of funnel plot and Egger's regression
Heterogeneity of studies assessed using chi-squared test and I-squared statistic
Trials Included
Search up to and including 12 June 2017
1961 papers identified

329 reviewed at abstract
18 studies (14 papers, 4 conference abstracts) passed final screening for mortality analysis with 1,191,178 patients included

9 single centre and 9 multi-centre
Study size range: 296 to 263,082 patients
Study duration range: 5 months to 9 years
ICU admission periods spanned 1994-2014

11 studies passed final screening for readmission analysis with 1,156,904 patients included
Population
Inclusion criteria for studies:

Report in-hospital and/or ICU readmission rates for all patients >=16 years discharged alive from a general, surgical or mixed ICU to a lower level of in-hospital care
Report these outcomes separately for patients discharged out-of-hours and in-hours
Follow patients to hospital discharge
Prospective or retrospective
All publication languages with no date restrictions

Exclusion:

Specialist intensive care populations (cardiac, neuro, liver)
Studies that separated weekday from weekend, but did not separate in hours from out of hours
Data duplicated in larger study

Only 2/18 trials fully reported baseline characteristics
Comparator
Discharge "out-of-hours"

Variable definition, starting between 1600-2200 and ending between 0559 and 0900
Control
Outcome
Primary outcome: Significant association between out-of-hours discharge and In-hospital mortality

Pooled relative risk estimate 1.39 (95% CI 1.24-1.57; p<0.0001)
Adjusted odds ratio (8 studies): 1.33 (95% CI 1.30-1.36; p=0.073)
Out-of-hours discharge was associated with significant increases in mortaliy for all definitions of out-of-hours
Overall heterogeneity was high (I-squared 90.1%), mainly arising from differences in study size

Secondary outcomes:

Significant association between out-of-hours discharge and ICU readmission (11 studies)

Pooled relative risk estimate 1.30 (95% CI 1.19-1.42, p<0.0001)

5 out of 7 studies found significantly higher severity of illness at admission in the out-of-hours groups
2 out of 8 studies found patients discharged at night were significantly younger

Post-hoc analysis: sub-group analysis based on geographical areas (UK, Europe, Australasia, Americas, Asia)

Effect of out-of-hours discharge on mortality remained for studies based in UK, Europe, Australiasia, North and South America. No significant difference found in single small study based in Asia
Effect of out-of-hours discharge on readmission:

Remained for studies based in

Australasia RR 1.18 (95% CI 1.09-1.28)
Europe RR 3.02 (95% CI 2.41-3.79)
Americas RR 1.14 (95% CI 1.07-1.21)

Borderline for studies based in

UK RR 1.42 (95% CI 1.00-2.02)
Authors' Conclusions
Out-of-hours discharge from ICU is associated with substantial increase in subsequent in-hospital mortality and ICU readmission
Strengths
Important clinical question with a patient centred outcome
Predefined, registered and published study protocol
Multiple techniques used to minimise heterogeneity
Large patient dataset, multi-national
Weaknesses
All the studies included, bar one are retrospective cohort studies- they can only demonstrate association, not causation
Significant heterogeneity between trials demonstrated by an I-squared statistic of 0.9

Heterogeneity seen in study size, correction for confounders, and definition of out of hours

9/18 of the trials were single centre -further reducing external validity
A different scoring system was used to assess trials than had been planned in the protocol
Absence of data in many of included studies, combined with different measures of illness severity used, prevented post-hoc analysis to investigate whether differences between in-hours and out-of-hours populations accounted for differences in outcome.
The Bottom Line
This meta-analysis of a heterogeneous set of mostly retrospective trials, showed a significant association between "out-of-hours" discharge from ICU and mortality. ICU re-admission was also significantly associated with out-of-hours discharge
Decisions made to discharge patients "out of hours" will continue to occur, especially in environments where ICU capacity does not match demand
Hospital systems should be examined to try and minimize discharges out-of-hours
External Links
Metadata
Summary author: Segun Olusanya
Summary date: 15th September 2018
Peer-review editor: Dave Slessor