Koo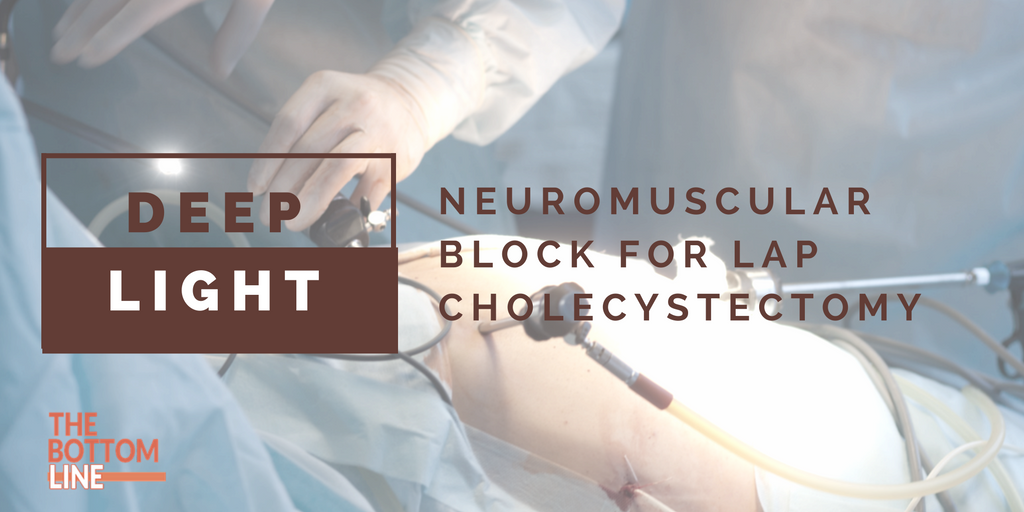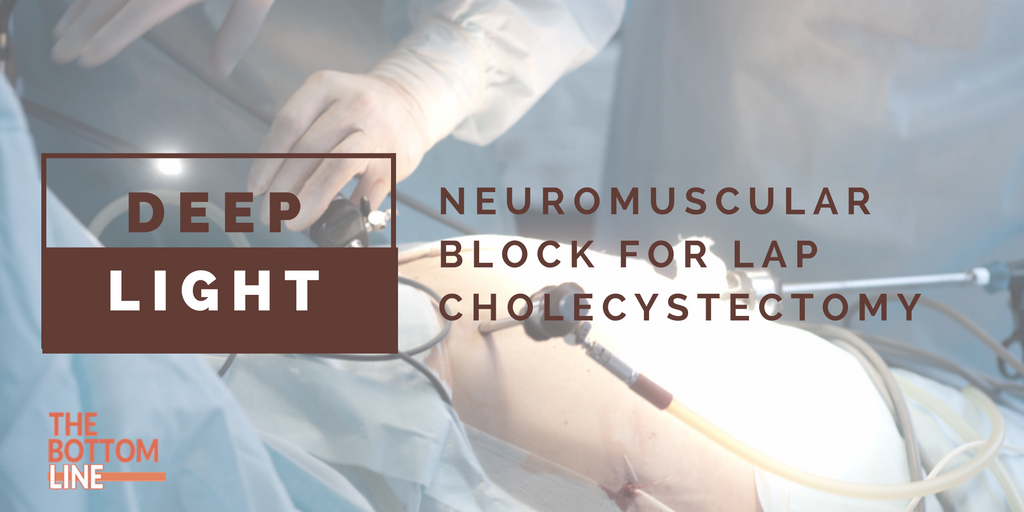 Randomized Clinical Trial of Moderate Versus Deep Neuromuscular Block for Low-Pressure Pneumoperitoneum During Laparoscopic Cholecystectomy
Koo. World J Surg; Published first on line 12th July 2016 doi:10.1007/s00268-016-3633-8
Clinical Question
In patients undergoing elective laparoscopic cholecystectomy, does deep neuromuscular blockade permit the use of low-pressure pneumoperitoneum?
Design
Single-centre, randomised-controlled trial
Computer generated randomisation using sealed, opaque envelopes
Surgeon and staff assessing post-op outcomes were blinded
Sample size calculation: α-error: 0.05, power of 80% to detect a ≥30% reduction in the rate of increasing intraabdominal inflation pressure. => 32 patients need in each group.
Setting
Single university hospital in Seoul
From September 2013 to April 2014
Population
Inclusion: Age 18-69, ASA I-II, scheduled to undergo elective cholecystectomy
Exclusion: History of neuromuscular, renal or hepatic disease, BMI <18.5 or >30, previous abdominal surgery, acute cholecystitis and treatment with medications that are known to interfere with neuromuscular function
96 patients assessed, 70 randomised, only 32 received intervention in each group. None lost to follow up. Per-protocol analysis performed.
Intervention
Deep neuromuscular blockade

Rocuronium boluses to maintain Post-tetanic count of 1 or 2.
Reversed with Sugammadex (4mg/kg) at the end
Control
Moderate neuromuscular blockade

Rocuronium boluses to maintain Train-of-Four count of 1 or 2.
Reversed with Neostigmine/Glycopyrrolate at the end
Management common to both:
Midazolam pre-med (0.02mg/kg).
Propofol and Remifentanil TCI used for induction and maintenance, with BIS monitoring
Accelerometric monitoring, calibrated before paralysis
Rocuronium (0.6mg/kg) on induction, 5-10mg boluses afterwards
Initial inflation pressure at 8mmHg, increased to 12mmHg on surgeon's request
Outcome
Primary outcome: Rate of increasing intra-abdominal pressure following request by surgeon due to inadequate surgical conditions

Deep blockade 12.5% vs. Moderate blockade 34.4%
Chi-squared test: p=0.039

Fisher's exact test: p=0.0746!

Absolute Risk Reduction: 21.9%
NNT: 5
Fragility Index

zero

Secondary outcome:

Surgical condition were rated as good or excellent more often in the deep blockade group
Operation time was significantly reduced in the deep blockade group
Observed intra-operative movements occurred less frequently in the deep blockade group
Post-operative complaints of: nausea and vomiting, pain, dry mouth and shoulder tip pain were less frequent in the deep blockade group, but only statistically significantly so at 24 hours and not 30 minutes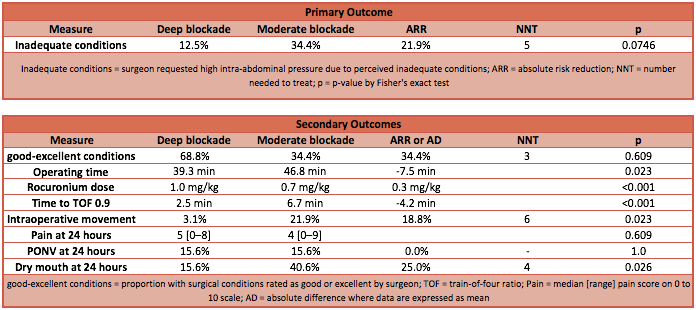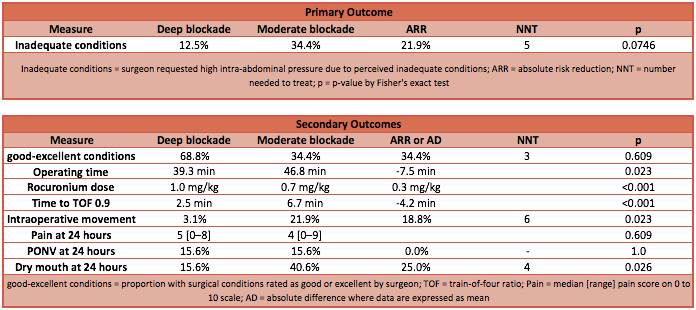 Authors' Conclusions
The use of deep neuromuscular blockade with close monitoring and full and reliable reversal with sugammadex, permits the use of lower inflation pressures during laparoscopic cholecystectomy
Strengths
Effective randomisation with similar baseline characteristics in both groups
Blinded surgeons and staff assessing post-op outcomes
Interesting results with regards to shoulder tip pain, PONV and dry mouth, but the study is not sufficiently powered to assess these
Careful monitoring of depth of neuromuscular blockade
Weaknesses
The lower pressure (8mmHg) pneumoperitoneum is significantly less than in some of the cited studies looking at this topic. However, the exclusion of obese (BMI>30) patients may partly explain why this pressure still provided adequate conditions in most cases
Patients in the moderate blockade group were reversed from a relatively deep level of blockade(TOF count of 1 or 2), which is deeper than normally recommended(TOF count >2). This could have affected the time to TOF ratio of 0.9.
It is unclear if the "Postoperative pain" assessment included shoulder tip pain or not.
Internal validity may be reduced:

Per protocol analysis. 6 patients excluded from analysis.
If Fisher's exact test is applied to the primary outcome (rather than Chi Squared), the result is p=0.075, making it statistically non-significant.
Only 96 patients assessed for eligibility in 8 months, in a 1782 bed university hospital. Could this produce selection bias?

External validity may be reduced:

Deep neuromuscular blockade requires close monitoring using quantitative devices, which aren't universally available
Adequate reversal before extubation to avoid adverse effects requires sugammadex, which is still relatively expensive limiting its availability
Acute cholecystitis – "hot lap choles" are becoming more common and it is a patient population who could potentially benefit more from lower pressure pneumoperitoneum, with systemic physiological derangement potentially already present preoperatively
"History of renal or hepatic disease" – very vague, and covering a very large proportion of patients
Exclusion of obese patients – a growing proportion of our patient population, especially for this operation
The Bottom Line
A well conducted, small RCT with interesting results, that are probably valid but not widely generalizable. A larger trial with appropriate inclusion criteria and statistical tests is needed to confirm this hypothesis.
I will consider the use of deep neuromuscular blockade and sugammadex reversal in patients who may be particularly sensitive to pneumoperitoneum to allow lower inflation pressures.
External Links
Metadata
Summary author: Peter Szedlak
Summary date: 1 November 2016
Peer-review editor: Duncan Chambler