TOCIBRAS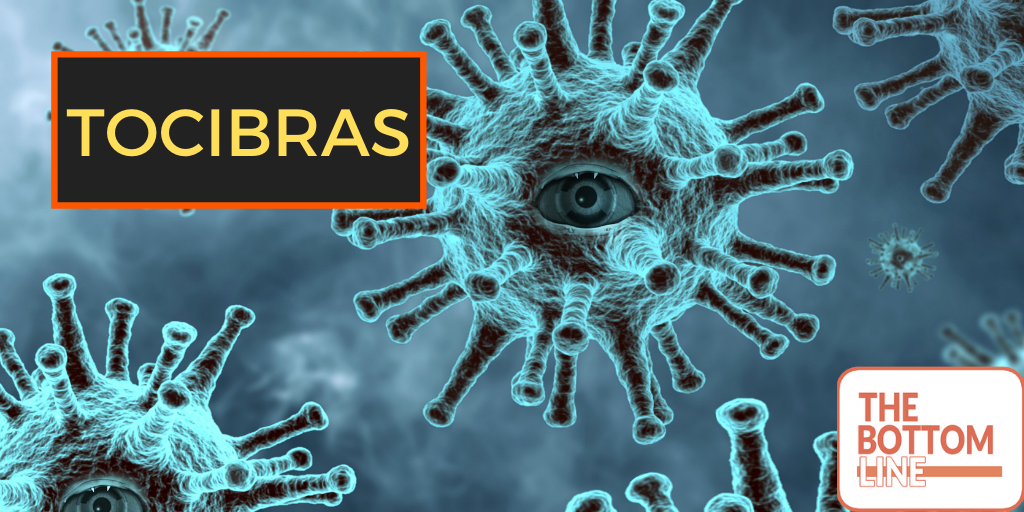 Effect of tocilizumab on clinical outcomes at 15 days in patients with severe or critical coronavirus disease 2019: randomised controlled trial
V C Veiga. @bporgbr BMJ 2021;372:n84. doi: https://doi.org/10.1136/bmj.n84 (Published 20 January 2021)
Clinical Question
In hospitalised adult patients with severe or critical COVID-19 pneumonia, does tocilizumab plus standard care compared with standard care alone, improve clinical outcomes at day 15?
Background
To date there have been 96 million cases of COVID-19 causing 2 million deaths worldwide
The host response is thought to play an important role in those who develop respiratory and other organ dysfunction, and the activation of macrophages leading to the circulation of inflammatory cytokines including interleukin 6 (IL-6) is a proposed mechanism
Tocilizumab is an IL-6 inhibitor approved for the treatment of rheumatoid arthritis, giant cell arteritis, and cytokine release syndrome. Given our understanding of the pathogenicity of severe COVID-19 disease it has been proposed as a therapeutic treatment in selected patients
Several RCTs investigating tocilizumab have not demonstrated efficacy (BACC, COVACTA ,CORIMUNO-TOCI-1, RCT-TCZ-COVID-19, EMPACTA). However, many of the patients in these studies were not critically ill, there was variable use of steroids and several prespecified secondary outcomes such as ICU and hospital length of stay suggested possible efficacy in the COVACTA study
Most recently the REMAP-CAP IL-6 antagonist arm published a pre-print reporting >99.9% and 99.5% posterior probabilities of superiority for tocilizumab and sarilumab respectively compared to placebo for its primary endpoint of median number of organ support free days, although this is yet to be peer reviewed
Design
Open label, multi-centre, randomised, parallel group clinical trial
Randomisation in a 1:1 ratio with random block sizes stratified by age and gender according to a computer-generated randomisation schedule
Allocation concealment maintained through use of central automated web accessed system
Designed to enrol 150 patients to provide 80% power to detect an odds ratio of 0.44 of having a higher seven level ordinal scale at 15 days at the 0.05 (two-sided) level of significance
Data collected until day 29 by unblinded hospital researchers. For patients who were discharged prior to day 15, a telephone interview by a blinded researcher
Primary outcome – clinical status at 15 days

Based on 7 level ordinal scale

 Not admitted to hospital and with no limitation in activities
Admitted to hospital but with limitation in activities
Admitted to hospital and not receiving supplemental oxygen
Admitted to hospital and receiving supplemental oxygen
Admitted to hospital and receiving non-invasive positive pressure ventilation or high flow nasal oxygen
Admitted to hospital and receiving mechanical ventilation
Death

Primary outcome planned to be assessed with ordinal logistic regression assuming proportional odds ratios adjusted for stratification variables
However the assumption of odds proportionality was not met and therefore changed to a binary outcome

Levels 1-5 vs. 6-7 (alive and not receiving mechanical ventilation vs. receiving mechanical ventilation and death)

Intention-to-treat primary analysis with per protocol sensitivity analysis
One planned interim analysis when 50% of planned patients were recruited (n=75), performed by an independent DMC with pre-defined criteria for study interruption

The study was interrupted by the DMC at interim analysis owing to an excess number of deaths at 15 days in the tocilizumab group
Rapid recruitment meant that when complete data for 15 day follow-up was available for the first 75 patients, 129 patients had been enrolled

Registered at clinicaltrials.gov (after enrolment of patients had started due to administrative error)
Setting
Nine hospitals in Brazil
Data collected between May 8th and July 17th, 2020
Population
Inclusion criteria:

Final inclusion criteria were as follows:

Adult in-patients aged 18 years or older
RT-PCR positive for SARS-coV-2
Symptoms for > three days
Presence of pulmonary infiltrates confirmed by chest CT or x-ray
Need for oxygen supplementation to maintain oxygen saturation (SpO2) > 93% OR need for mechanical ventilation for < 24 hours before the randomisation
In addition two or more of the following inflammatory tests:

D dimer >2.74 nmol/L (>1000 ng/mL)
CRP >50 mg/L (>5 mg/dL)
Ferritin >300 μg/L
LDH greater than the upper limit of normal

Two changes were made to the trial protocol from its inception to the point of data analysis

The need for mechanical ventilation was originally an exclusion criterion but the protocol was amended to allow inclusion of patients mechanically ventilated for less than 24 hours on June 4th, 2020
The original protocol required CT evidence of COVID-19 as the sole radiographic inclusion criterion, but this was expanded to include chest X-ray evidence on July 7, 2020

Exclusion criteria:

Active uncontrolled infection
Hypersensitivity to tocilizumab
Patients expected to die or receiving palliative care
Neutrophil count < 0.5 x 109/L or platelet count < 50 x 109/L
AST or ALT > than five times the upper limit of normal
Renal disease with an eGFR <30 mL/min/1.72 m
Pregnancy and breastfeeding women
Other clinical conditions that contraindicate tocilizumab, according to the attending physician

Baseline demographics (tocilizumab vs standard care)

Number of patients randomised: 65 vs. 64
Median age: 57.4 vs. 57.5 years
Male sex: 44% vs. 44%
Mean days from symptom onset to randomisation: 10 vs. 9.5
Major comorbidities:

Hypertension: 46% vs. 53%
Diabetes: 34% vs. 31%
Obesity: 25% vs. 25%
Chronic kidney disease: 8% vs. 2%
Asthma: 6% vs. 2%

Previous drug use:

Glucocorticoids: 6% vs. 8%
Hydroxychloroquine: 17% vs. 14%
Azithromycin: 35% vs. 48%

Vasopressor requirement: 14% vs. 11%
Clinical status on seven level ordinal scale:

4- Receiving supplemental oxygen: 60% vs. 44%
5- Receiving NIV or high flow nasal oxygen: 23% vs. 41%
6- Receiving mechanical ventilation: 17% vs. 16%

Laboratory results:

Mean CRP (mg/L): 160 vs. 193
Mean ferritin (mcg/L): 1271 vs. 1385
Mean LDH (U/L): 588 vs. 631

In-hospital glucocorticoid use:

None: 31% vs. 27%
Prednisolone equivalent:

<0.5mg/kg/day: 21% vs. 20%
≥0.5 and <1.0 mg/kg/day: 23% vs. 28%
≥1 mg/kg/day: 25% vs. 25%
Intervention
Tocilizumab + standard care

Single intravenous infusion of 8 mg/kg (maximum 800 mg)
Control
Standard of care (best supportive care), according to local protocols

2 patients received tocilizumab at discretions of treating physician
Management common to both groups
Concomitant use of hydroxychloroquine, azithromycin, corticosteroids, and antibiotics was permitted according to local guidelines

Remdesivir was not available in Brazil
Outcome
Primary outcome: Mechanical ventilation or death at day 15 –  no significant difference

Comparing tocilizumab vs. control group

28% vs 20%, OR 1.54 (95% CI 0.66 to 3.66, p = 0.32)

Secondary outcomes:

Tocilizumab was not associated with statistically significant differences in 28-day or in-hospital mortality as confidence intervals just crossed the threshold
Clinical status at day 8 and day 29 was not significantly different between treatment groups
Patients assigned to tocilizumab had a lower duration of hospital stay

Comparing intervention vs. control group (95% CI):

No significant difference in:

All-cause mortality until day 28

21% vs. 9%, OR 2.70 (0.97 to 8.35)

Hospital mortality

21% vs. 9%, OR 2.70 (0.97 to 8.35)

Mean SOFA score on day 8

4.1 vs. 3.4, mean ratio 1.20 (CI 0.87 to 1.64)

Mean SOFA score on day 15

4.3 vs. 4.3, mean ratio 0.99 (CI 0.65 to 1.49)

Mean ventilator-free days within 29 days

19.4 vs. 20.5 days, RR 1.12 (0.86 to 1.99)

Median time until oxygen support independence within 29 days

6 vs. 10 days, HR 1.37 (0.92 to 2.04)

Incidence of secondary infections

15% vs. 16%, OR 0.99 (0.37 to 2.67)

Thromboembolic events

5% vs. 6%, OR 0.72 (0.14 to 3.40)

Significantly less in intervention group

Mean length of hospital stay

11.3 vs 14.7 days, RR 0.70 (0.55 to 0.87)

Adverse events: No significant differences in any adverse events between groups:

Any adverse event: 43% vs 34%, p = 0.26
Severe adverse event: 16% vs 11%, p = 0.45
Non-severe adverse event: 36% vs 24%, p = 0.18

 Post-hoc analysis

Death at 15 days – significantly increased in tocilizumab group

17% vs. 3%, OR 6.42 (95% CI 1.59-43.2)
Fragility index: 2 patients

Interim analysis:

After the recruitment of 129 patients, 84 patients had completed follow up at the interim analysis. Of these, 18% died before day 15 in the intervention arm compared with 4.5% in the standard care arm (p=0.042).
Authors' Conclusions
"In this trial including patients admitted to hospital with severe or critical COVID-19, the use of tocilizumab plus standard care was not superior to standard care alone in improving patients' clinical status at 15 days, and might have increased mortality."
Strengths
Multi-centre, randomised, controlled trial
An important clinical question in the context of the pandemic and a useful addition to a growing evidence base for IL-6 antagonists
Random block sizes according to a computer generated schedule ensured allocation concealment
The majority of patients were receiving corticosteroids in both arms, which is now the standard of care and a potential limitation of previous studies such as BACC and COVACTA where relatively few patients received this therapy. Use of antibiotics and antivirals was also similar between groups
Internal validity is strong owing to specific inclusion criteria that reflects the hypothesis that patients most likely to benefit from IL-6 antagonists are those with evidence of severe disease and a persistent inflammatory state.
Baseline demographics of the intervention and control groups were generally well matched
There was good adherence to protocol and only two protocol violations in the standard care arm
All patients were included in analysis
Weaknesses
Open label design is susceptible to clinician bias at the bedside and reporting of outcomes
The number of patients assessed for eligibility was not recorded, so selection bias cannot be excluded
The sample size was relatively small and over 50% of patients were recruited from 1 centre, which may reduce external validity
The protocol was amended twice once recruitment was underway, although the nature of these changes were unlikely to have created a source of bias
There were differences in baseline characteristics between the two groups, with more patients receiving NIV or high flow nasal oxygen in the control group. Currently we do not know if the use of NIV or high flow nasal oxygen is beneficial or harmful
The baseline FiO2 or P/F ratio is not stated which makes it more difficult to compare the baseline severity of illness between the two groups
The study was terminated at the first interim analysis before recruiting the intended number of patients, underpowering the study to detect any treatment effect
The primary outcome was changed to a binary endpoint during the study as the distribution of the seven level ordinal scale did not fit proportional odds assumptions. Although the potential for this change was anticipated and specified apriori, this had the effect of reducing further the statistical power
Two patients in the control arm received tocilizumab, which could potentially bias results towards the null, as generally sicker patients crossover into intervention groups. However this number is relatively small and the clinical endpoints were robust to the per protocol sensitivity analysis
The signal towards increased mortality with tocilizumab is an outlier compared with other studies, which raises the possibility that in spite of it's controlled nature there may have been confounders that were unaccounted for
The mortality in the control group was low at 9% (compared with 36% in REMAP-CAP). With a small sample size, this may be a chance finding
The Bottom Line
This study was terminated at the first interim analysis owing to an excess number of deaths in the tocilizumab group
This is the first RCT to demonstrate a signal to harm of tocilizumab therapy in patients with COVID-19, which in the absence of REMAP-CAP peer review and several negative studies is reason for caution
The RECOVERY trial continues to recruit patients to receive tocilizumab as part of its adaptive platform design and I will continue to preferentially recruit patients into this trial
External Links
Metadata
Reviewed by: Andrew Achilleos 24/01/2021
Peer-review editor: Dave Slessor
Image by Syaibatul Hamdi from Pixabay