BOX Trial: Blood Pressure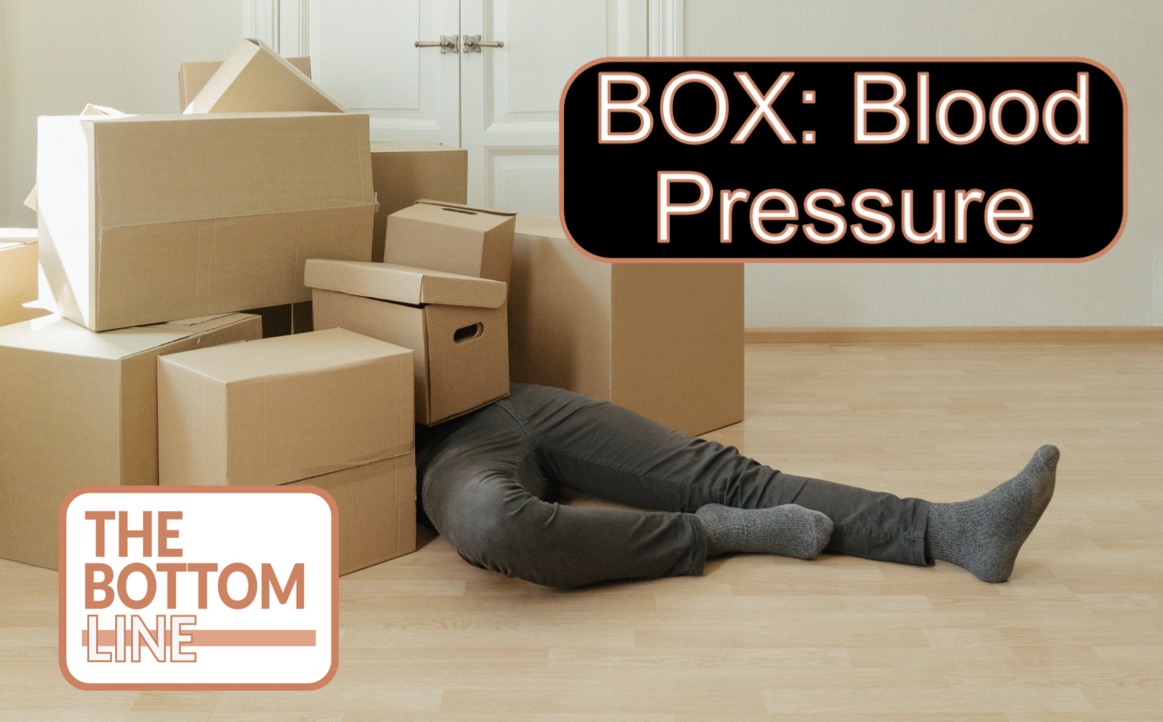 Blood-Pressure Targets in Comatose Survivors of Cardiac Arrest
Kjaergaard et al | New England Journal of Medicine| August 2022
DOI: 10.1056/NEJMoa2208687
Clinical Question
In patients with return of spontaneous circulation (ROSC) after cardiac arrest does a higher MAP target (> 77mmHg) compared to a standard target  (>63mmHg) reduce death or survival at discharge with a poor neurological status?
Background
Manipulation of mean arterial pressure is a central intervention in the ICU to maintain adequate organ perfusion.
Following cardiac arrest cerebral autoregulation may be impaired and therefore be dependent on adequate perfusion pressure
Maintenance of higher MAP is likely to require higher doses of vasopressor which may be associated with complications
Design
Two-centre, double blind, parallel-group randomised clinical trial
Blinding was achieved by altering the calibration of the invasive blood pressure monitor such that in the intervention group the true blood pressure was 10% higher than the target of 70mmHg and in the control arm the value was 10% lower.
2* 2 factorial design (patients also randomised to restrictive or liberal oxygenation – results reported separately)
Web based randomisation with varying block sizes, stratified by randomisation site
 Further subordinate randomisation to one of two cooling devices for 24 hours (Surface vs Intravascular)
800 patients provided between 80 and 90% power to detect a 10% absolute reduction in the primary outcome (a composite of death or discharge from hospital up to ay 90 with a cerebral performance score of 3-4). This was based on a predicted mortality of 38%
Setting
Conducted in 2 Tertiary Danish ICUs between March 2017 to December 2021
Population
Inclusion Criteria
Out of hospital cardiac arrest of presumed cardiac cause
Sustained ROSC > 20mins
Unconscious (GCS < 9)
Exclusion Criteria
Females of childbearing potential (unless a negative HCG test can rule out pregnancy within the inclusion window)
In-hospital cardiac arrest (IHCA)
OHCA of presumed non-cardiac cause, e.g., after trauma or dissection/rupture of major artery OR cardiac arrest caused by initial hypoxia (i.e., drowning, suffocation, hanging)
Suspected or confirmed acute intracranial bleeding
Suspected or confirmed acute stroke
Unwitnessed asystole
Known limitations in therapy and Do Not Resuscitate-order
Known disease making 180 days survival unlikely
>4hours (240min)from ROSC to screening
Systolic blood pressure < 80 mmHg despite fluid loading/vasopressor and/or inotropic medication intra-aortic balloon pump/axial flow device
Temperature on admission<30°C
1196 patients assessed for eligibility

188 not meeting inclusion criteria.

Younger than 18 years of age = 9
OHCA on non-cardiac origin, n=47
ROSC not sustained > 20 minutes, n=17

206 with an exclusion criteria
802 randomised

403 High target BP group, 9 withdrew consent  ITT population of 393
399 Low target BP group 3 withdrew consent  ITT population of 396
Baseline characteristics
High BP target vs Low BP target  – very similar between the two groups
Mean age: 63 vs 62
Male: 80% vs 81%
Cardiovascular history

Hypertension 45% vs 47%
Diabetes 12% vs 16%
Myocardial infarction 24% vs 20%
Atrial Fibrillation 17% vs 15%
Heart failure 17% vs 18%
COPD 8% vs 8%
Stroke 6% vs 9%

Cardiac Arrest Details

Shockable rhythm 86% vs 84%
Witnessed arrest 86% vs 84%
Bystander CPR 88% vs 87%
Time to ROSC 21 vs 21 minutes
Time from arrest to randomisation 150 vs 154 minutes

Finding and procedures on arrival to hospital

ST Elevation on ECG 44% vs 47%
Coronary angiogram performed 93% vs 90%
pH 7.21 vs 7.22
Lactate 6.1 vs 5.6
Intervention
Higher MAP target

Target MAP of 77mmHg for duration of invasive blood pressure monitoring
Control
Standard MAP target

Target MAP of 63mmHg for duration of invasive blood pressure monitoring.
In both groups
Protocolised recommendations for achieving MAP with fluids followed by Noradrenaline and then Dopamine.
Targeted temperature management at 36oC for 24 hours
Standardised neurological assessment
Outcomes
No significant difference across any outcomes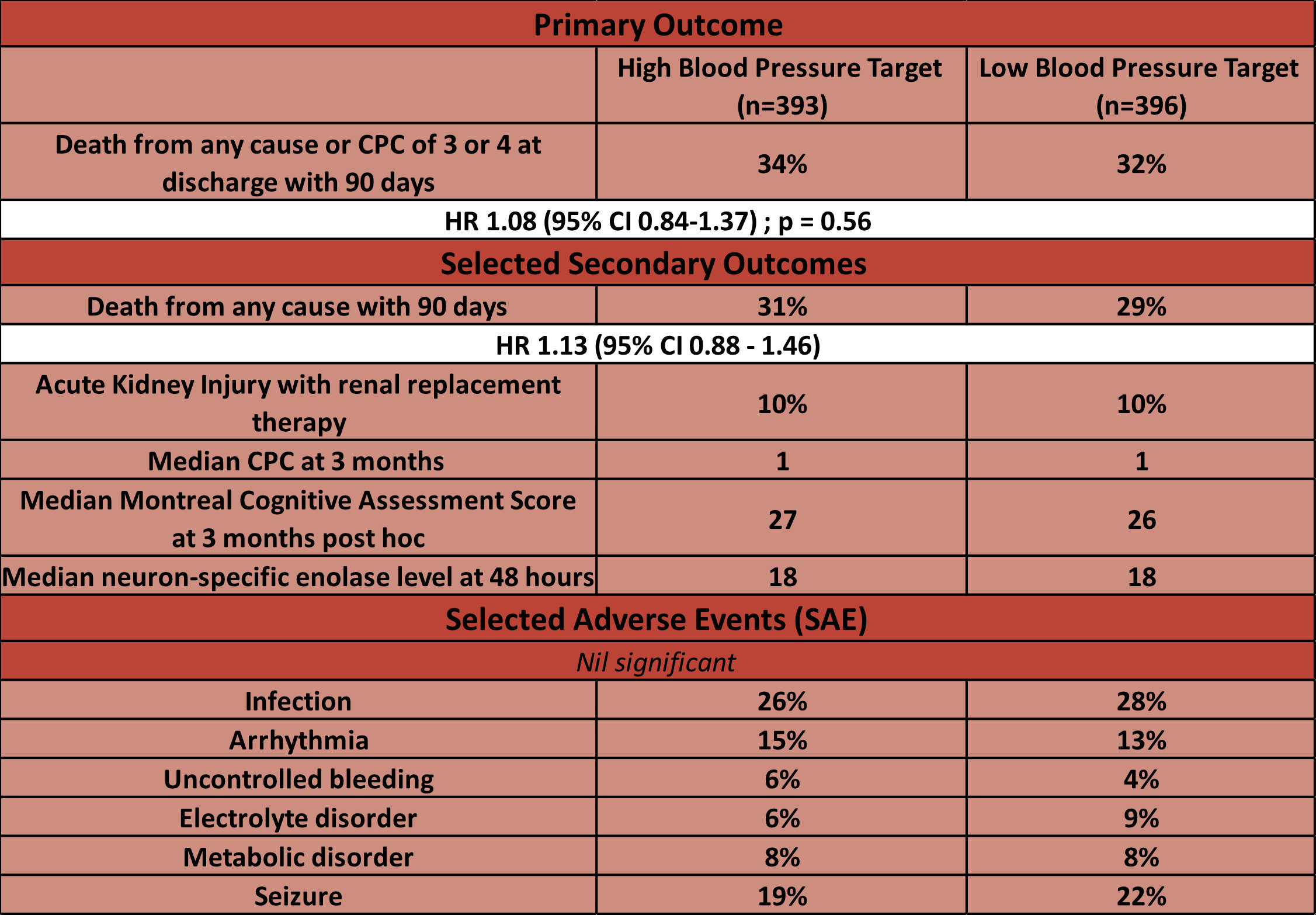 Sub-groups
No difference across any pre-specified subgroups for 90 day all-cause mortality

Age > 64 HR 1.05 (95% CI 0.77-1.44)
Hypertension HR 1.15 (95% CI 0.81-1.62)
Renal Impairment HR 0.95 (95% CI 0.39-2.30)
COPD HR 0.48 (95% CI 0.23-0.99)
Shockable rhythm HR 1.11 (95% CI 0.85-1.45)
Adverse Events
Number of moderate and severe bleeding events was not different between groups
Number of units of packed red blood cells transfused during VA-ECMO was higher in the moderate hypothermia group
Number of nosocomial infections was not different between groups
Authors' Conclusions
In comatose survivors of out of hospital cardiac arrest a mean arterial blood pressure of 77 mm Hg as compared with 63 mm Hg did not result in a significant difference in the percent- age of patients who died or had severe disability or coma 
Strengths
Innovative design allowing for double blinding in a haemodynamics trial.
Good treatment separation between groups (BP 10mmHg and Noradrenaline dose 0.038mcg/kg/min)
Event rate consistent with predicted reducing risk of type 2 error.
Well-designed, multi-centre study performed in the emergency setting
Minimal loss to follow up
Standardised protocol for temperature regulation
Similar baseline characteristics between groups
Weaknesses
Study only performed in two centres in one country which limits generalisability.
Some may argue that the 10mmHg is not sufficient to difference in outcome
Large predicted effect size increases risk of type 2 error but no real signal in either direction
Use of dopamine as inotrope of choice may reduce generalisability
MOCA scores only available for 359 patients at 3 months making this data harder to interpret
Did not mandate sedation hold on initial assessment 
The Bottom Line
I will aim to maintain a mean arterial pressure of > 65mmHg for survivors of out of hospital as has been my current practice. It seems any value in this range is likely to be safe
External Links
Metadata
Summary author: Alastair Brown
Summary date: 27th September 2022
Peer-review editor: David Slessor