SETPOINT2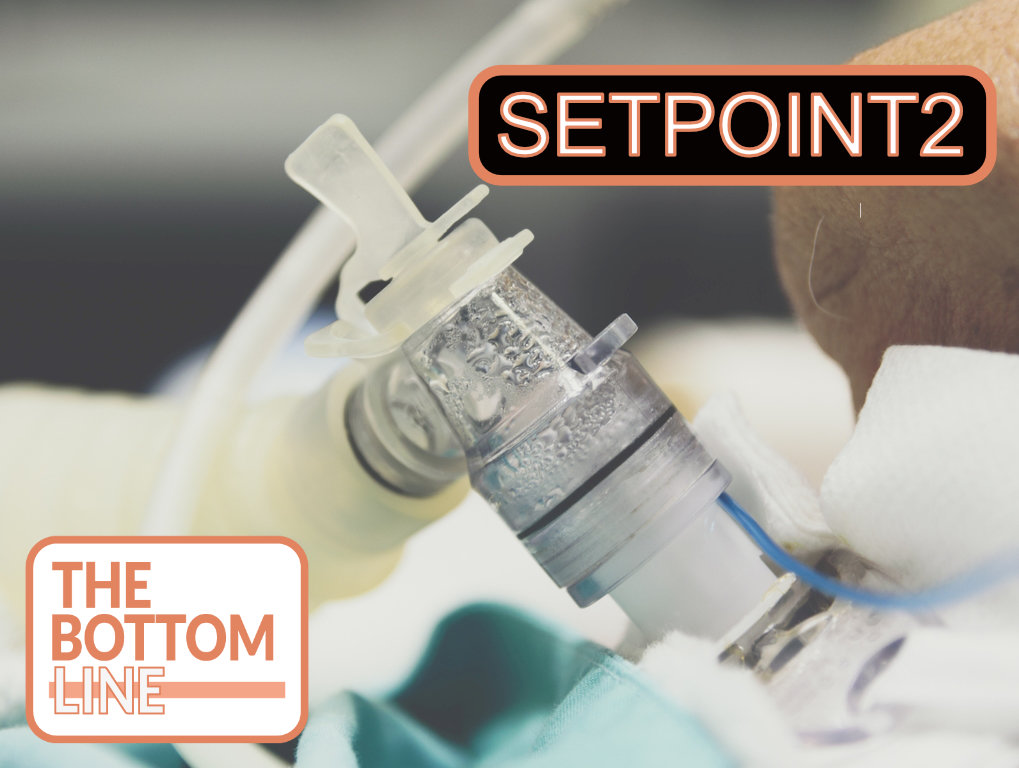 Effect of Early vs Standard Approach to Tracheostomy
on Functional Outcome at 6 Months Among Patients
With Severe Stroke Receiving Mechanical Ventilation:
The SETPOINT2 Randomized Clinical Trial
Bösel J. JAMA 2022; doi:10.1001/jama.2022.4798
Clinical Question
In patients with severe stroke does early (≤5 days of intubation) tracheostomy when compared to standard timing (from day 10) of tracheostomy improve functional outcome at 6 months?
Background
TRACMAN was one of the largest multi-centre RCTs looking at timing of tracheostomy in ICU

The results did not provide any evidence supporting early tracheostomy
The number of patients with a primary neurological reason for ICU admission were low (~5%) within this trial

Rates of tracheostomy have been shown to be higher in those with acute brain injury compared to the general ICU population
Concerns around weak cough, impaired swallow or an inability to maintain a patent upper airway often delay extubation in this population
The SETPOINT trial looked at the timing of tracheostomy in stroke patients

This small pilot RCT of 60 patients found no difference in ICU LOS (the primary outcome) but did show a lower ICU mortality (a secondary outcome)
Design
Investigator initiated, multi-centre, randomised trial
Blinding of outcome assessors (long term functional and cause of mortality)
Outcomes assessed using pre-structured telephone interview
Informed consent by patient or their legally authorised representative prior to day 4 of intubation
Randomised in 1:1 ratio

Central web-based tool
Blocks stratified in groups of 4 to achieve equal group size per centre

Only centres with routine use of percutaneous dilatational tracheostomy (PDT) were recruited
Sample sized based on pilot trial

15% increase from 30% to 45% in intervention group
With 80% power and alpha of 0.05 and 15% drop out rate a sample size of 380 (190 per group was required)

Pre-specified subgroups
Confidence intervals for secondary end-points and subgroups not adjusted for multiplicity

Thus, these can only be interpreted as exploratory

Missing values for mRS at 6 months handled by a multiple imputation approach
Appropriate ethical approval
Registered with Clinical Trials
Setting
26 neurocritical care units in Germany and USA
July 2015 – August 2020
Population
Inclusion:

18 years or older
Invasive mechanical ventilation (IMV)
Acute ischemic stroke (AIS), intracerebral haemorrhage (ICH) or sub arachnoid haemorrhage (SAH) (all non traumatic)
SETscore > 10

Predicts the need for IMV for at least 2 weeks
Calculated on day of enrolment

Clinical judgement of treating neuro-intensivist that tracheostomy likely to be needed
Principle indication for tracheostomy had to be at least one of:

Ongoing demand for suctioning secretions
CNS related respiratory insufficiency
aspiration or danger of aspiration due to dysphagia

Exclusion:

mRS > 1 (pre-morbid)
IMV > 4 days
Clinical conditions prohibiting early tracheostomy or mandating surgical tracheostomy
Pregnancy
Life expectancy < 3 weeks
Anticipated withdrawal of life sustaining therapies
Inability to obtain informed consent
Participation in other interventional trial

4562 assessed for eligibility –> 4180 excluded for not meeting eligibility criteria

188 randomised to early tracheostomy –> 177 had tracheostomy (95.2%)

177 in primary analysis as 9 lost to follow up and 2 withdrew consent

194 randomised to late tracheostomy –> 130 had tracheostomy (67%)

189 in primary analysis as 4 lost to follow up and 1 withdrew consent

Comparing baseline characteristics (early vs. standard tracheostomy groups):

Age: 59.2 vs 57.6
Male: 48.4% vs 52.1%
Pre-hospital mRS of 0: 86.0% vs 87.1 %
Admission:

Median NIHSS: 21 vs 21
Median GCS: 7 vs 6
Median SETscore: 14 vs 14

Diagnosis:

AIS: 26.3% vs 30.4%

Decompressive Craniectomy: 49.0% vs 50.8%

ICH: 41.9% vs 40.2%

Volume > 30cc: 60.5% vs 71.8%
Supratentorial: 71.8% vs 75.6%

SAH: 31.7% vs 29.4%

WFNS Score: 5 vs 5
Fisher Scale of 4: 67.2% vs 73.7%

Baseline Lung Injury Score: 1.0 vs 1.0
PDT (if tracheostomy performed): 89.3% vs 83.1%
Time from intubation: 4 days vs 11 days
Intervention
Control
Management common to both groups
Conversion to surgical tracheostomy allowed if clinically warranted
All other management (including ventilator settings, weaning, analgesia and sedation) centre specific but followed guidelines from American Heart and Stoke Associations and Neurocritical Care Society
Outcome
Primary outcome:

mRS of 0 – 4 or less at 6 months
43.5% in early group vs 47.1% in standard group

Absolute difference -3.6% (95% CI -14.3 to 7.2%)
aOR 0.93 (95% CI 0.60 to 1.42)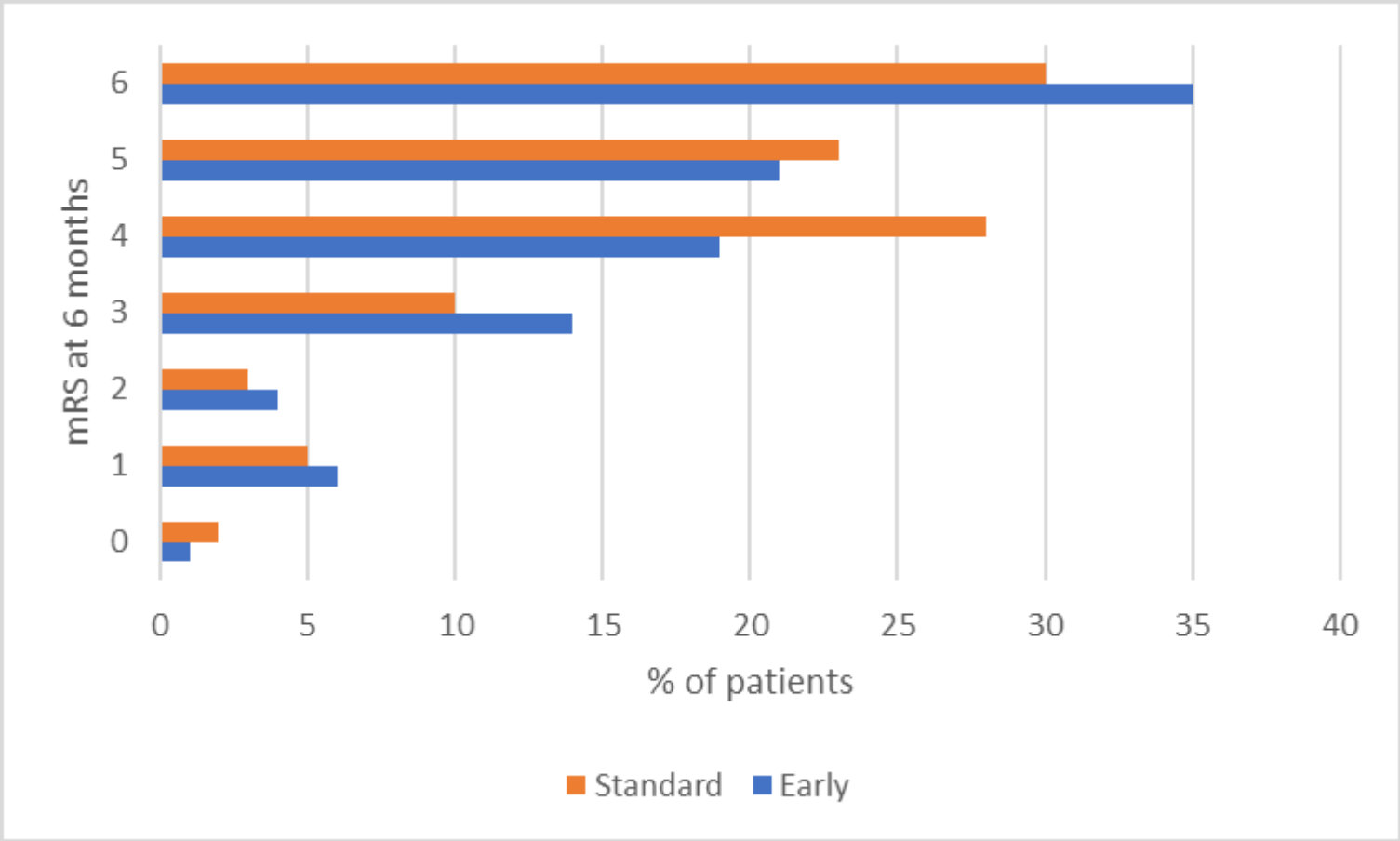 Secondary outcomes:
Comparing early vs. standard group

No secondary outcome showed a significant difference

mRS 0 – 3 at 6 months

24.3% vs 19.6%

aOR 1.48 (95% CI 0.89 – 2.48)

Death at 6 months

35.0% vs 29.6%

aOR 1.06 (95% CI 0.74 – 1.53)

Median time to ICU discharge

17 days vs 19 days

HR 1.12 (95% CI 0.90 – 1.39)

Median time to end mechanical ventilation
No difference in ICU stay without sedatives, opioids or vasopressors

Subgroups:

No subgroup had 95% CI that fully favoured one approach or other
These included Age (< 55, 55 – 65, > 65), Sex, Location (USA or Germany), Recruitment Numbers (<30 or > 30), Primary diagnosis (AIS, SAH or ICH), and GCS (<6, ≥6)

Safety Outcomes

(potentially) PDT related adverse event rate 17.3% (eTable 5)
Periprocedural adverse events (up to 2 hours post tracheostomy): 15.8%
Any serious adverse event:
Authors' Conclusions
In patients with severe stroke receiving IMV, early tracheostomy did not improve rate of survival without significant disability at 6 months compared to standard timing
Clinically relevant benefit or harm can not be excluded due to wide confidence intervals
Strengths
Multi centre RCT across 2 countries increase external validity
Although 4130 were excluded, an accurate screening log minimises selection bias and shows that a majority were excluded for valid reasons (not meeting inclusion criteria or meeting exclusion criteria)

Only 1.3% (n=55) were excluded for "other" reasons

Analysed on intention to treat basis
Balanced baseline characteristics
Achieved a meaningful separation in timing of tracheostomy
Good adherence to protocol – no violations reported
Minimal loss to follow up (3.4%)
Weaknesses
The primary outcome of an mRS of 0-4 ranges from no disability to moderate severe disability that requires the assistance of others for mobility and daily needs

This is a very wide range of functional outcomes. One wonders if a patient who has an mRS of 4 would view this as a "better" functional outcome?

Secondary end-points regarding ICU medications were defined post-hoc
Understandably unable to blind clinicians and patients
No standardised weaning protocol used
48.7% of all randomisations came from 4 centres (2 in USA, 2 in Germany)
33% of standard tracheostomy group did not receive a tracheostomy

22% were extubated and 11% died prior
This confirms prior studies about the utility of the SETscore and its ability to predict those that will be extubated successfully in the short term
However, over 1 in 5 patients did not have a procedure that had a near 20% complication rate

AIS, ICH and SAH may have different clinical courses
This appeared to be a cohort that had a poor prognosis (evidenced by high decompressive craniectomy rates, and high WFNS scores)

This is also evident in the fact that only ~10% in each group had a mRS of 0-2
Would a difference be shown if the cohort was less likely to have an unfavourable outcome?
The Bottom Line
This trial provides no evidence that in patients with severe stroke an early tracheostomy is better than standard time for tracheostomy, and that an early tracheostomy may mean a patient has to undergo a procedure that they did not need
External Links
Metadata
Summary author: George Walker @hgmwalker89
Summary date: 13th May 2022
Peer-review editor: @davidslessor
Picture by: iStock