Steroids in Sepsis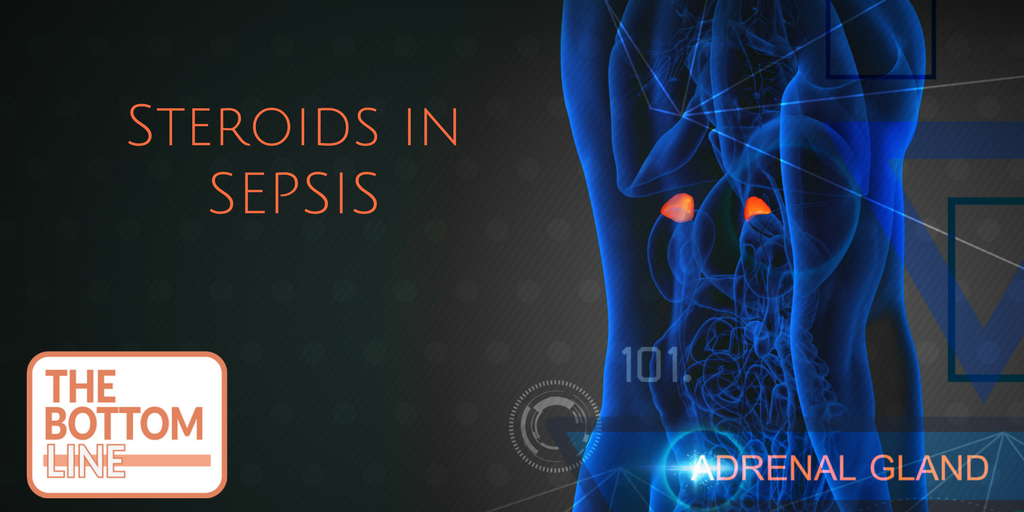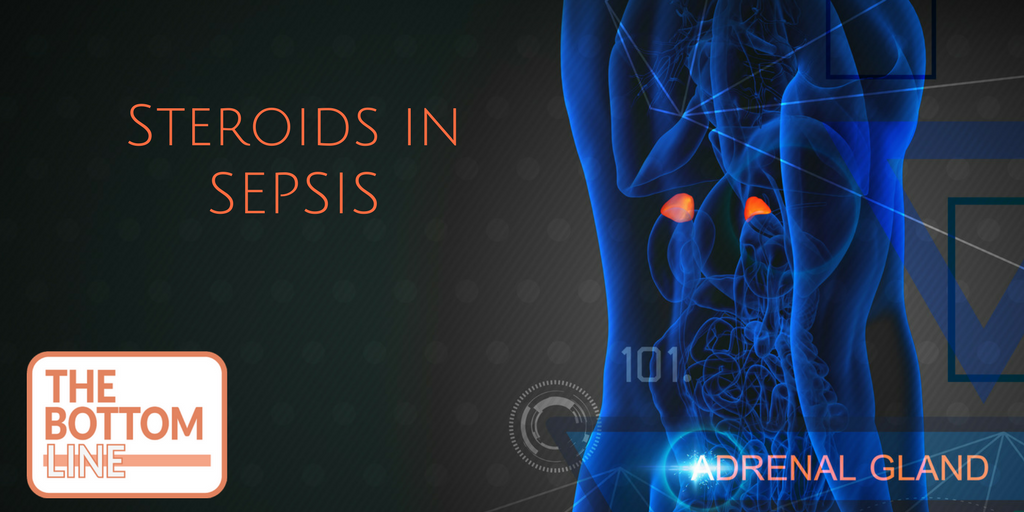 Steroids in septic shock
We suggest against using IV hydrocortisone to treat septic shock patients if adequate fluid resuscitation and vasopressor therapy are able to restore hemodynamic stability. If this is not achievable, we suggest IV hydrocortisone at a dose of 200 mg per day (weak recommendation, low quality of evidence).
Surviving Sepsis Campaign: International Guidelines for Management of Sepsis and Septic Shock 2016
Background
The hypothalamus secretes corticotrophin-releasing hormone (CRH), stimulating the release of adrenocorticotrophin hormone (ACTH) from the anterior pituitary. This results in cortisol secretion from the adrenal glands.
Normal serum cortisol levels are thought to range between 5 and 24 mcg/dL, with significant variability depending on the time of day. During physiological stress, hypotension, or severe infection, the Hypothalamic-pituitary-adrenal (HPA) axis is activated and diurnal variation is lost. Serum cortisol increases as a result, reaching levels as high as 40 to 50 mcg/dL. Suboptimal cortisol production during these periods has been termed 'functional' or 'relative' adrenal insufficiency. Whether serum cortisol response and exogenous administration in during episodes of functional insufficiency can predict and improve mortality respectively has been the focus of extensive debate for over 50 years.
The theoretical benefit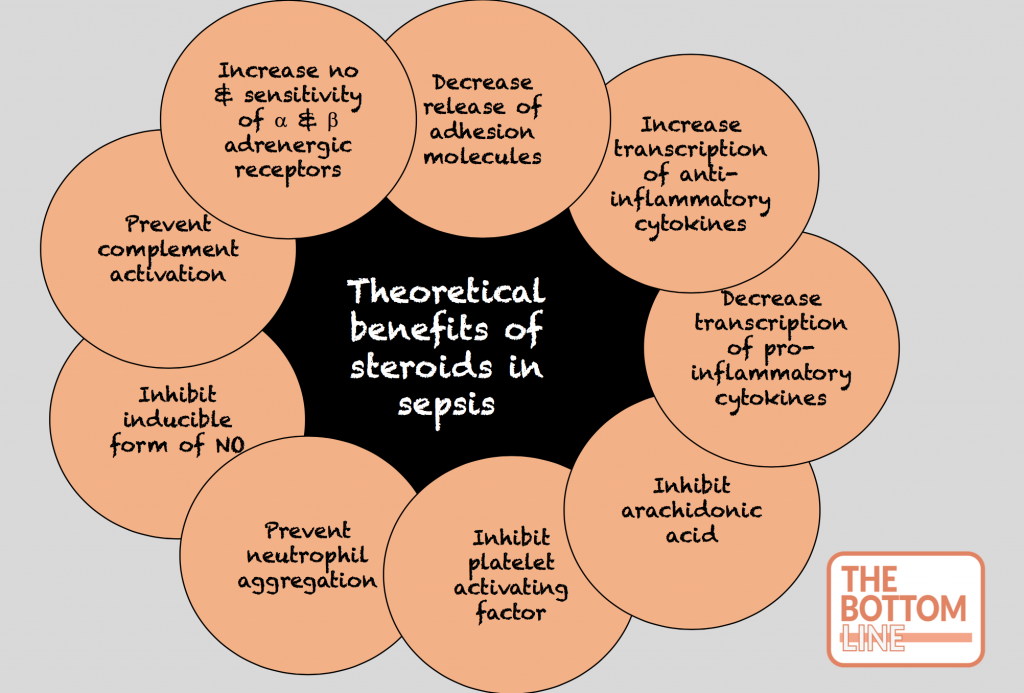 The early clinical trials
1960s
1970s
1980's
2000's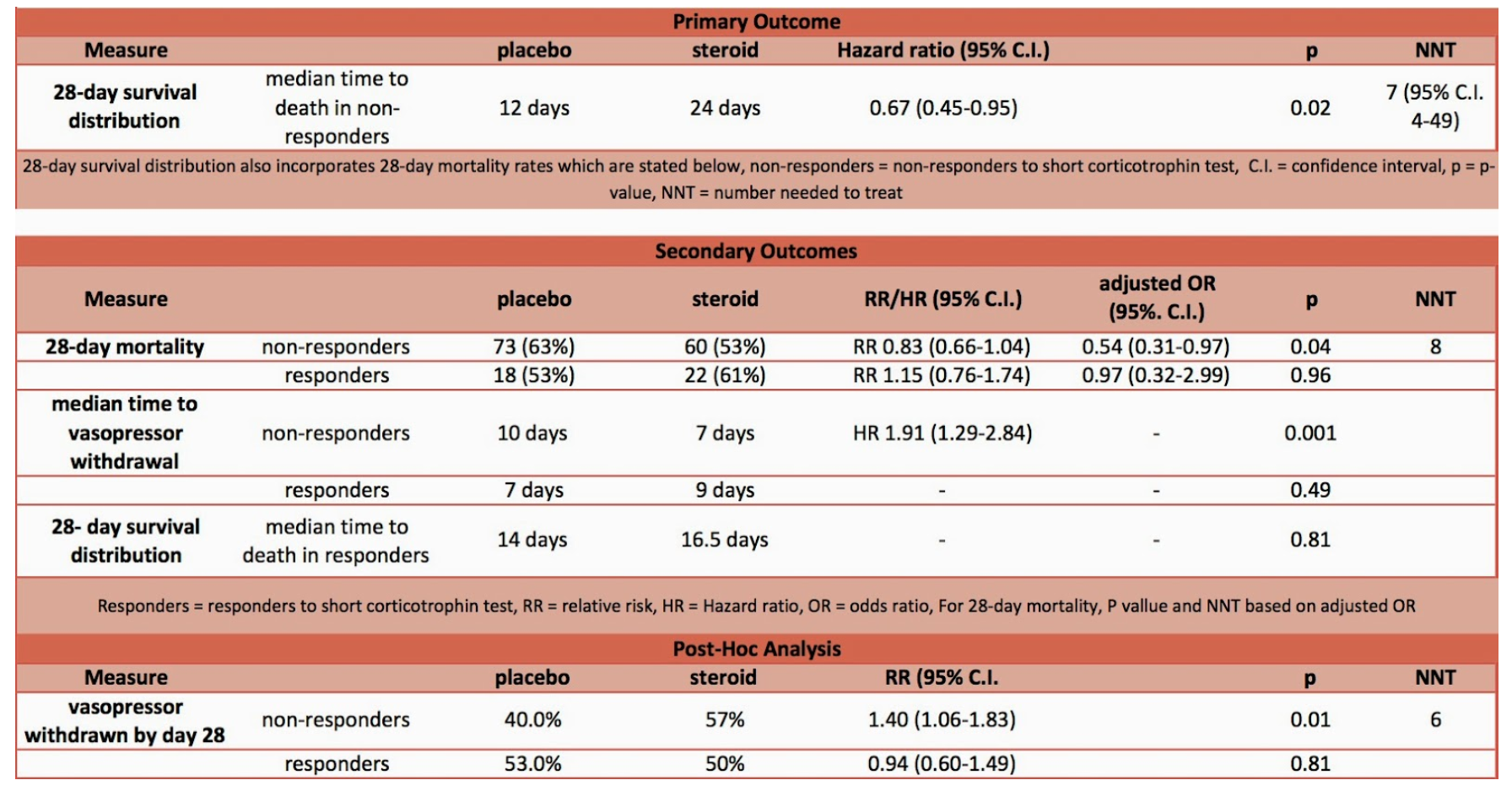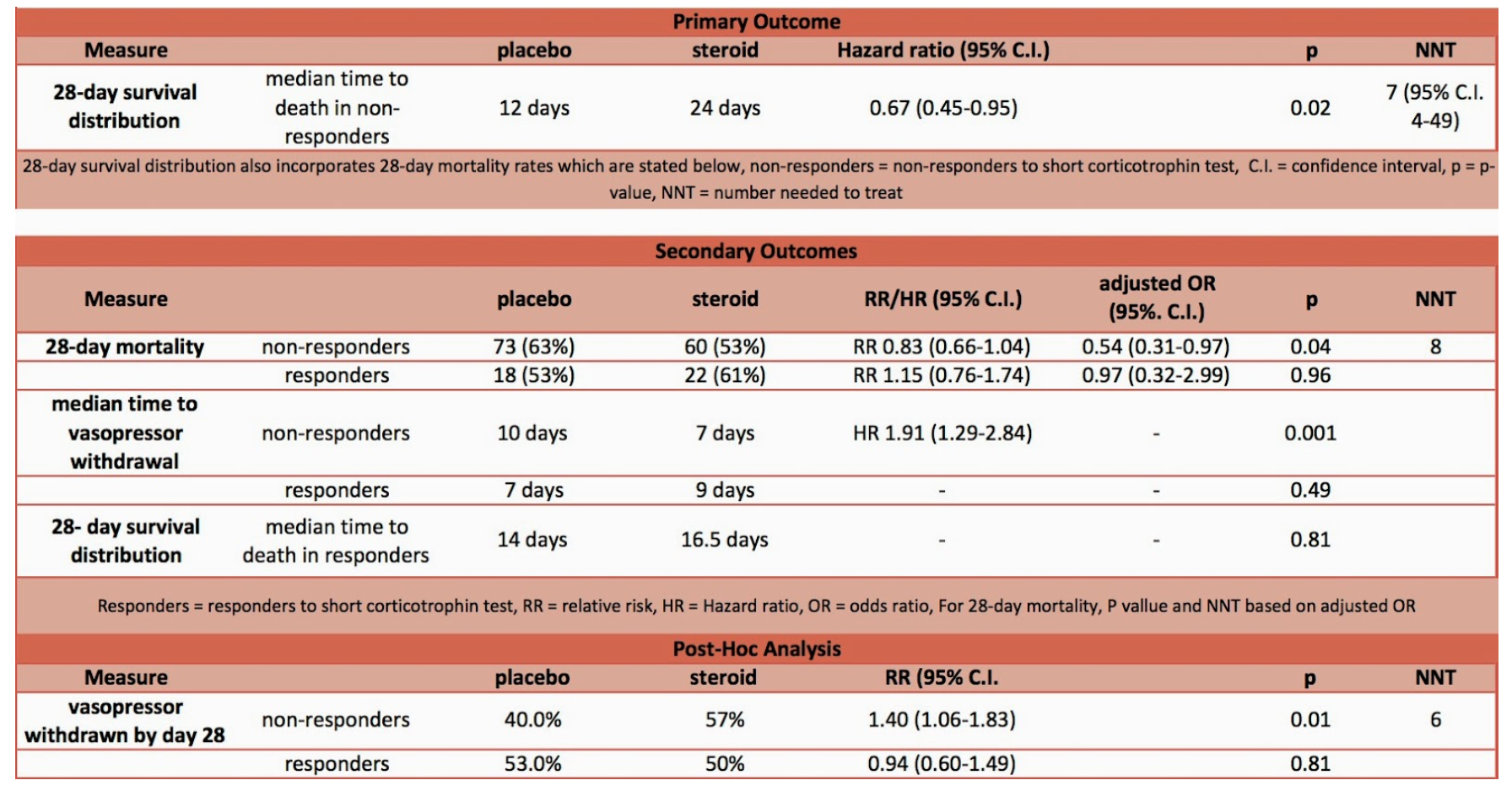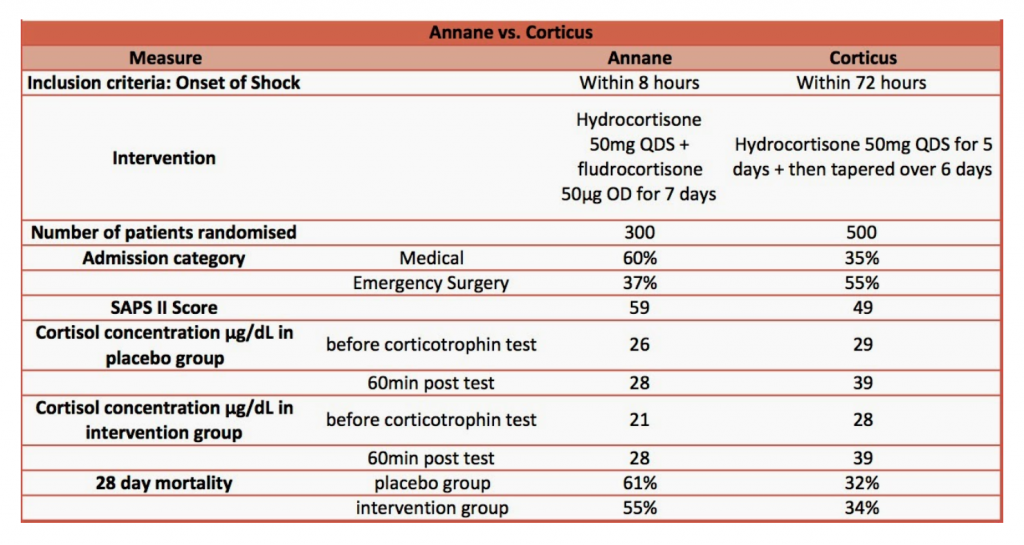 2010-2018


Systematic reviews and meta-analyses
Pre-CORTICUS
Annane (2004) – 16 RCTs or quasi-RCT's, including 2063 patients were selected. For all trials, regardless of duration of treatment and dose, use of corticosteroids did not significantly affect mortality. With long courses of low doses of corticosteroids, however, mortality at 28 days and hospital morality was reduced.
Post-CORTICUS
Sligl (2009) – 8 studies (6 RCTs) involving a total of 1876 patients were selected. In patients with septic shock, corticosteroid therapy appears to be safe but does not reduce 28-day all-cause mortality rates. It does, however, significantly reduce the incidence of vasopressor-dependent shock.
Sherwin – (2012) – The Sepsis Sub-committee of the American Academy of Emergency Medicine Clinical Practice Committee identified seven relevant trials and concluded that low-dose corticosteroids may reverse shock faster; however, mortality is not improved.
Wang (2014) – 8 RCTs' found low dose hydrocortisone therapy decreased shock at 7 and 28 days, with no change in mortality.
Cochrane review (2015) – included a total of 33 RCTs, accounting for 4268 hospitalised patients with sepsis. Three trials included children, and the remaining 30 trials included only adults. Corticosteroids were compared with placebo in all except five trials, in which they were compared with standard therapy alone. Low-quality evidence indicates that steroids reduce mortality among patients with sepsis. Moderate-quality evidence suggests that a long course of low-dose steroids reduced 28-day mortality without inducing major complications.
Gibbison (2017) – Complete data from 22 studies and partial data from 1 study were included. There was no clear evidence that any one corticosteroid drug or treatment regimen is more likely to be effective in reducing mortality or reducing the incidence of gastrointestinal bleeding or superinfection in septic shock. Hydrocortisone delivered as a bolus or as an infusion was more likely than placebo and methylprednisolone to result in shock reversal
The Bottom Line…so far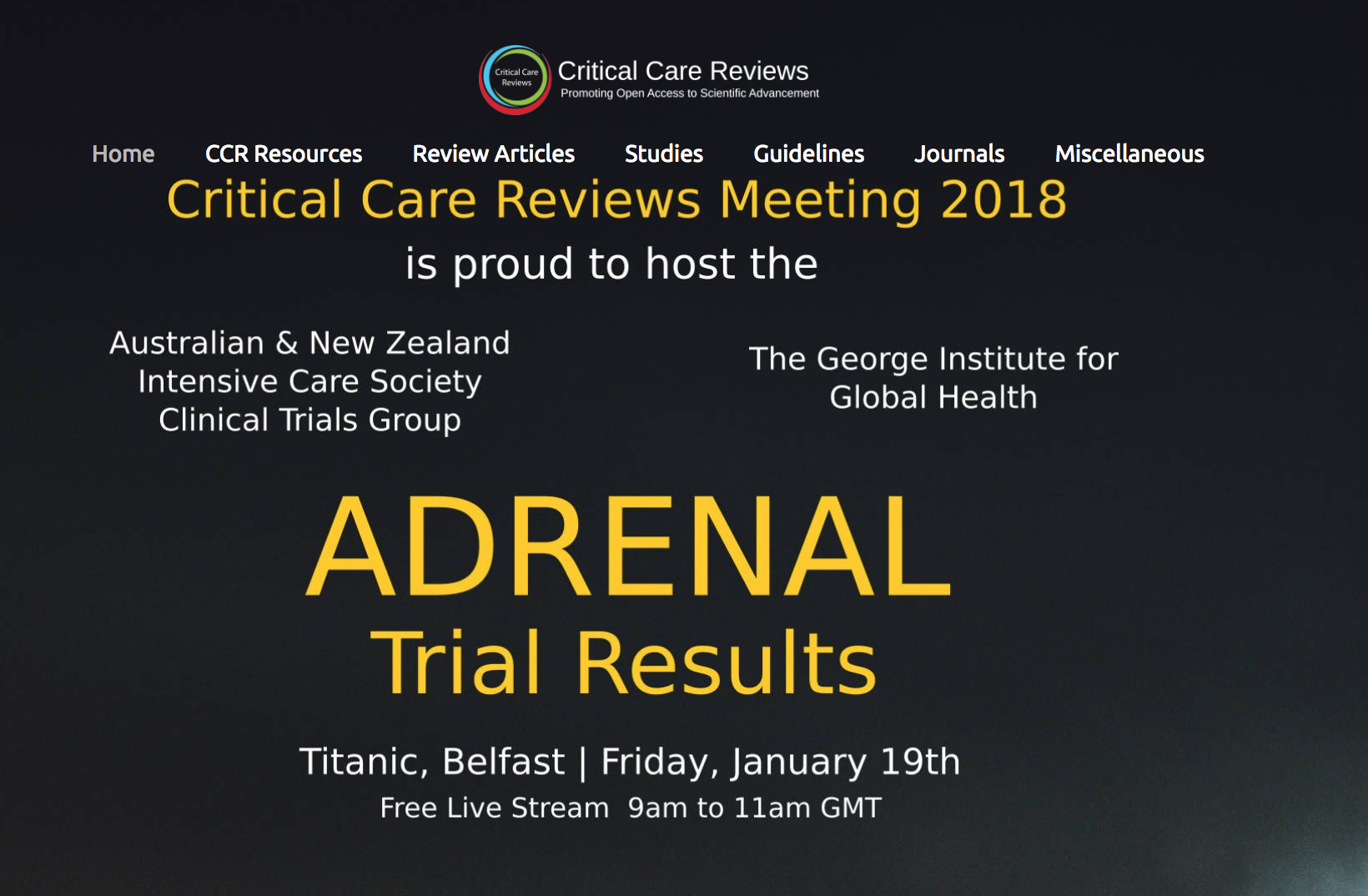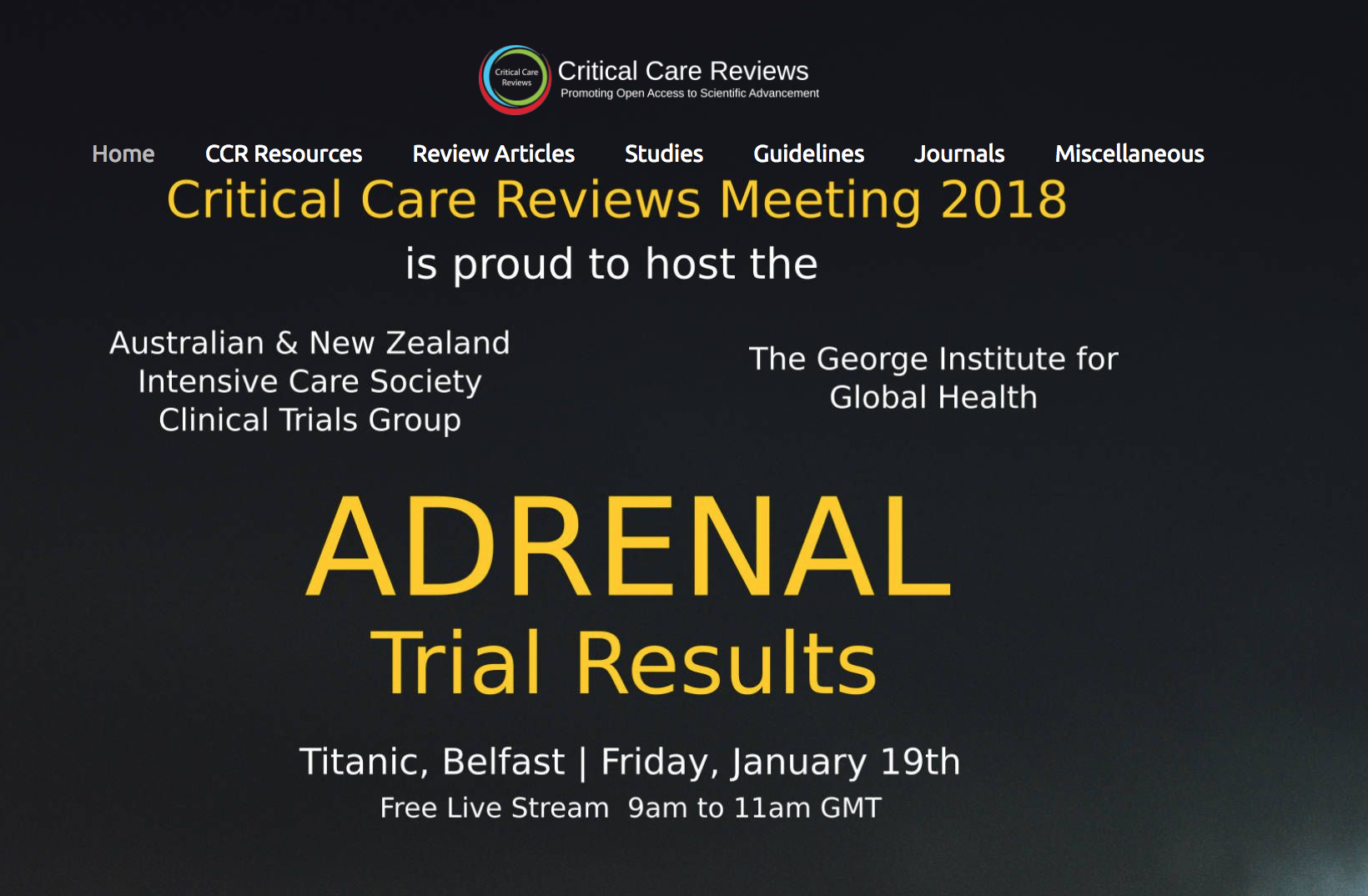 External Links
Metadata
Summary author: Steve Mathieu
Summary date: 2nd January 2018
Peer-review editor: Charlotte Summers