TBL Mini: Rib Fixation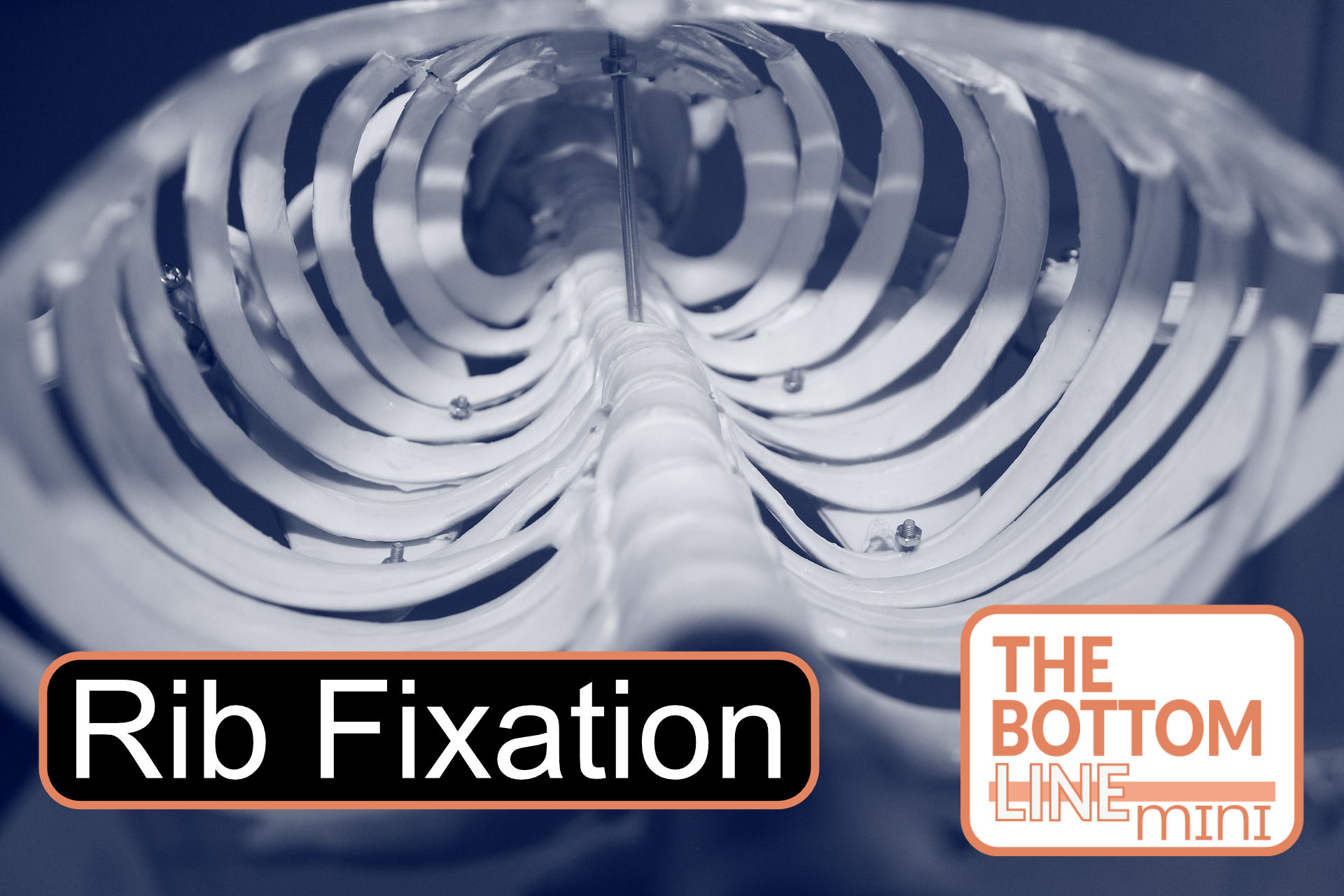 Operative vs Nonoperative Treatment of Acute Unstable Chest Wall Injuries: A Randomised Clinical Trial 
Dehghan et al. JAMA Surg 2022 doi:10.1001/jamasurg.2022.4299
Background
Blunt chest wall trauma has high associated rates of morbidity and mortality
RCTs have shown a reduced ICU length of stay in those requiring mechanical ventilation, however this has not been replicated in non-ventilated patients
What did they do?
Between 2011 and 2018 in 15 US and Canadian trauma centres patients with either displaced rib fractures and a flail chest or non-flail chest injuries but severe chest wall deformity were randomised to operative fixation (within 96 hours of injury) or standard care (pain management, chest physiotherapy, ventilation as needed)
Patients did not have to be invasively ventilated
Patients who would likely require prolonged mechanical ventilation (severe TBI, severe airway injuries, severe pulmonary contusions) were excluded
The primary outcome was ventilator free days (to day 28)
What did it show?
211 patients were randomised
Baseline characteristics including injury mechanism, injury severity score, number of rib fractures and associated thoracic injuries (pneumothorax, contusion) were similar between groups
~40% (n=89) required mechanical ventilation at randomisation and a further~15% (n = 31) patients required mechanical ventilation after randomisation
The mean VFDs were 22.7 in the operative group and 20.6 in the non-operative group, with mean difference of 2.1 [95% CI -.03 to 4.5, p = 0.09]
Complications including VAP, tracheostomy, empyema and death were similar between groups
The subgroup, comparing those mechanically ventilated at randomisation compared to those who were not, favoured rib fixation

Both an increase in VFD (with a mean difference of 2.8 days [95% CI 0.1 – 5.5]) and shorter hospital length of stay (mean difference of 1.4 days [95% CI 0.9 – 2.1]) was demonstrated
How does this fit into the other evidence?
Although no difference in primary outcome was shown, this large MRCT seems to mirror the benefits shown in earlier trials (Marasco et al, Tanaka et al)
Rib fixation in mechanically ventilated patients shows short-term benefits (trend to shorter ventilation, and shorter hospital stays) however no longer-term patient focused outcomes have been demonstrated
External Links
Operative vs Nonoperative Treatment of Acute Unstable Chest Wall Injuries: A Randomized Clinical Trial
Rib Fixation: Who, What, When?
Metadata
Summary Author: George Walker
Summary Date: 28th October 2022
Peer Review Editor: Dave Slessor
Image: Pixabay/Rogue Pixie