TRACT Tranfusion Timing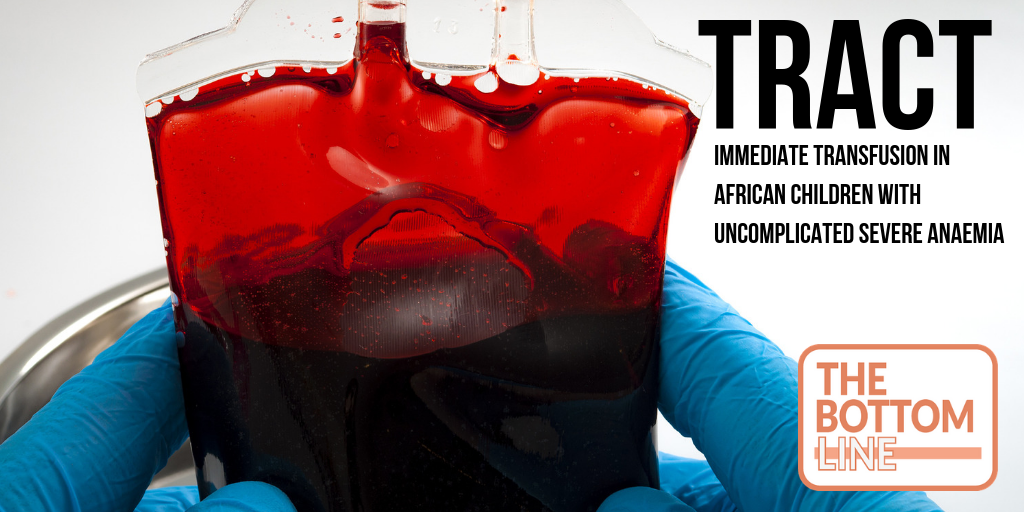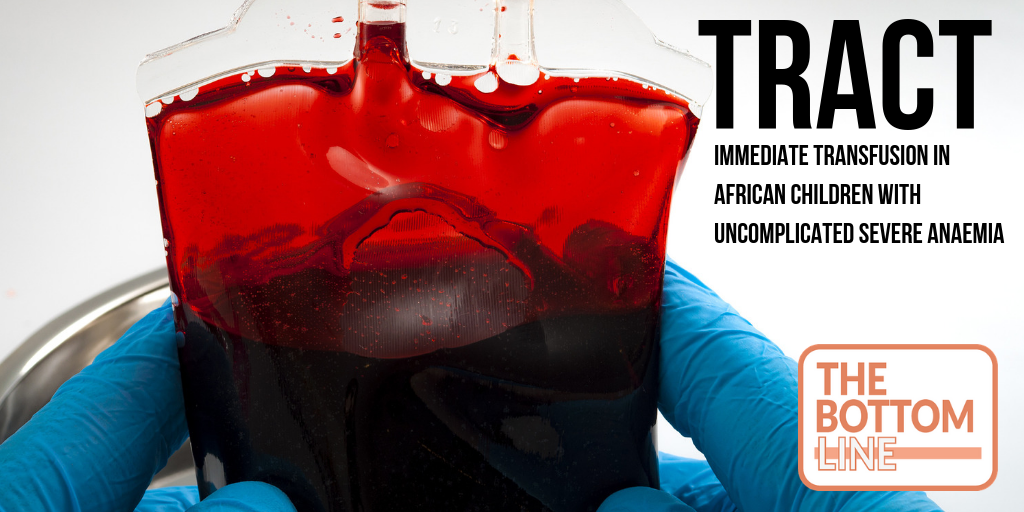 Immediate Transfusion in African Children with Uncomplicated Severe Anaemia
K.Maitland et al. New England Journal of Medicine; August 1st 2019; 381:407-419; doi:10.1056/NEJMoa1900105
Clinical Question
In children hospitalised with uncomplicated severe anaemia, is an immediate blood transfusion strategy superior to delayed transfusion in reducing 28-day mortality?
Background
World Health Organisation guidelines encourage a restrictive transfusion approach in children in sub-Saharan Africa with anaemia
The current recommendation is not to transfuse if haemoglobin levels are 4 to 6 g/dL WHO guideline
Compliance with these guidelines is poor Data from FEAST study
Blood is a scarce resource, particularly in sub-Saharan Africa, and it also has a significant cost implication
Previous studies in the sub-Saharan African population have challenged traditional practice in relation to intravenous fluid therapy SSSP2 study; FEAST study
In the developed world, restrictive transfusion in critically ill adults has been shown to be consistent with improved or similar mortality outcomes when compared with more liberal strategies TRISS study; TRICC study; TRICS-III study; TITRe2 study
This is the first randomised controlled trial to investigate delayed versus immediate transfusion in African children
Design
Open-label, multi-centre, factorial, randomised controlled trial
Children randomised in a 1:1 ratio to undergo immediate transfusion (intervention group) or no immediate transfusion (control group)
Computer-generated randomisation sequence with permuted blocks of variable size
Allocation concealment using opaque, sealed envelopes
Patients stratified according to trial centre
Factorial design meant that children in intervention arm underwent a second randomisation to receive either 20 ml or 30 ml of whole blood per kilogram of body weight
80% power calculation performed for study to detect a 50% relative difference in 28-day mortality from 9% in the control group to 4.5% in the treatment group
Primary outcome was mortality at 28 days after randomisation
Secondary outcomes were mortality at 48 hours, 90 days and 180 days; development of new profound anaemia (HgB < 4 g/dL) during the primary hospitalisation or severe anaemia (HgB < 6 g/dL) after hospital discharge; hospital readmission; the percentage of children who had correction of anaemia (defined as HgB > 9 g/dL); suspected transfusion reactions; serious adverse events; and cost and cost effectiveness
Adverse events determined by a blinded end-point review committee
Setting
Three hospitals in Uganda and one hospital in Malawi
September 2014 to May 2017
Population
Inclusion: Children aged between 2 months and 12 years of age who were hospitalised for uncomplicated severe anaemia (defined as a haemoglobin level of 4 to 6 g/dL)
Exclusion:

Signs of clinical severity: reduced level of consciousness; respiratory distress; acute haemoglobinuria; known sickle cell disease
Severe anaemia: Haemoglobin level < 4 g/dL
Children with known chronic disease
Children who were exclusively breast fed

6171 children assessed for eligibility

2452 excluded due to clinical severity
1415 children did not have anaemia
329 refused consent
410 excluded for other reasons

1565 children underwent randomisation. 778 randomised to immediate blood transfusion. 787 children randomised to the control group

Median age 26 months (IQR 12-50)
62.6% children positive for malaria
56.6% male sex
No major baseline imbalances between groups
Intervention
Immediate transfusion
20 or 30 ml/kg of whole blood (or 10-15 mls of packed or settled cells) transfusion administered depending on secondary randomisation group as part of factorial study design. See Transfusion Volume for Children with Severe Anemia in Africa
Second transfusions if indicated at designated randomisation volume
Additional transfusions administered with 20 ml/kg blood volume, regardless of secondary randomisation group
Control
Delayed transfusion
20 ml/kg of whole blood transfusion if haemoglobin dropped below 4 g/dL or if new signs of clinical severity developed
Management common to both groups
All children treated in general paediatric wards
No ventilatory facilities available
Point of care testing available for haemoglobin, glucose and lactate
Other treatments, including antimalarial and antibiotic regimens, were administered according to national guidelines
Bedside observations were performed at admission, every 30 minutes for the first 2 hours, and then 4,8,16,24 and 48 hours after initiation of the first transfusion or randomisation
Haemoglobin assessed with the use of the HaemoCue system every 8 hours during the first 24 hours and then at 48 hours or if indicated by clinical deterioration
Outcome
Primary outcome: No difference between intervention and control groups in 28 day mortality

7  children out of 778 died in the immediate transfusion group and 6 children out of 787 died in the control group (0.9% vs 0.8%; hazard ratio 0.54; 95% confidence interval 0.22 to 1.36; p=0.19)
Median time to transfusion in immediate-transfusion group was 1.3 hours versus 24.9 hours in the delayed transfusion group
44.8% of children in the delayed transfusion group had received a transfusion by 96 hours, compared with 100% of children in the immediate-transfusion group

Secondary outcomes: Median length of hospital stay 3 days (IQR 3 to 4) in immediate-transfusion group and 4 days (IQR 3 to 6) in the delayed-transfusion group (HR for time to discharge 1,62; 95% CI 1.46 to 1.80)
The immediate transfusion group were more likely to have correction of anaemia (defined as a haemoglobin of great than 9.0 g/dL) (51.3% vs. 5.5%; HR 11.73 (95% CI 8.69-15.84)

The delayed-transfusion group were more likely to develop profound anaemia during hospitalisation (39.3% vs. 1.4%; HR 0.03 (95% CI 0.02-0.05) and more likely to develop severe anaemia after hospital discharge (18.0% vs. 13.6%; HR 0.73 (95% CI 0.56 – 0.94)

No difference in death at 90 days, death at 180 days, hospital readmission rates or adverse events
Economic analysis found that overall costs were, on average, $5.63 less in the control group.
Authors' Conclusions
Although mortality was too low to either show or refute any benefits from immediate transfusion, our large, multicentre trial showed that among children with uncomplicated severe anaemia, the immediate-transfusion strategy resulted in fewer children who had development of profound anaemia (haemoglobin level <4 g per decilitre), which is an absolute indication for transfusion, and more children who had early haemoglobin recovery than the triggered transfusion strategy
Strengths
A well-conducted, multicentre randomised controlled trial, with power calculation performed to detect a difference in a patient centred outcome
Good compliance with assigned study intervention
Minimal loss to follow-up (5%) despite a resource-poor setting and follow-up occurring to 180 days
Important clinical question addressed
Assessors for adverse events were blinded to the study group
Economic analysis performed
Weaknesses
Sub-Saharan African setting limits generalisability to the developed world
Study was underpowered to detect a mortality difference. This was overestimated in the power calculation
Unclear how standard of care in the study reflected real-world practice, particularly in frequency of haemoglobin monitoring. The lower than expected mortality rate leads one to suspect that study participants received superior care than usual
The Bottom Line
Compliance with the WHO recommendation of a restrictive transfusion strategy in physiologically stable children with a haemoglobin of 4 to 6 g/dL is safe, provided they have haemoglobin measured at regular intervals and have ongoing clinical assessment performed.
External Links
Metadata
Summary author: Fraser Magee
Summary date: 7th August 2019
Peer-review editor: Adrian Wong